Studded Dog Harness for Mastiff Fashionable Look, Soft Padded V-Plate
Leather dog harnesses are very comfortable for dogs. They are made of natural, quality, non-toxic material, that is hypoallergenic, safe, very comfortable and durable.
Walking dog harness for mastiff is designed to be super strogn and undergo huge loadings. Mastiff dogs are well-known with their huge power. You will need a strong walking dog harness to control your dog and stop it pulling and lead it into the right direction.
The special feature of this mastiff walking dog harness is that it is a pyramids-studded dog harness. Nickel-plated pyramids are riveted into the chest V-shaped plate. Each stud is reliabky fixed with smooth inner rivet. The chest part is also soft padded with fleece to make your dog feel super comfortably!
View a larger image by clicking on the pictures
The benefits of this Mastiff Harness:

V-shaped, fleece padded front plate
pyramids-studded design
rustproof hardware
regulated belts
genuine leather
cast D-ring for dog lead on the back Y-plate
well-done, handmade by professionals
the best price from the producer directly
world-wide shipping

Intended use of this Mastiff Harness:

mastiff walking
mastiff training
medium and large dogs

Available sizes:

medium size
large size
extra large size

Available colors:

black
brown
tan (natural)
This studded dog harness is an internationally certified product.
Check how this studded dog harness looks on Mastiff dog breeds
Pictures from our Customers
View a larger image by clicking on the pictures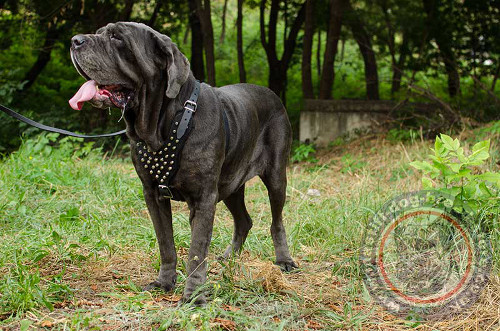 Studded Dog Harness Looks and Fits Perfectly on Neapolitan Mastiff
Choose the combination of style and comfort embodied in this studded dog harness!