Best Mastiff Muzzles Design!
Best mastiff muzzles are designed by professional dog traners and canine specialists. In the result of a solid experience and careful approach, there appeared a perfect design of mastiff muzzle for multipurpose applying. First of all, the best mastiff muzzles are made of quality materials, safe and dog-friendly. This model of mastiff muzzles is produced of smooth wire basket (rustproof steel) and even genuine leather belts. The design of adjusting is made the way to be fixed on dog's head reliably and comfortably. It is virtually impossible for a dog to take it off by its paws! A dog breathes and pants free muzzled. It is very important for dog comfort and health. Sometimes a dog is induced to be muzzled for a long time. You may feel safe for your dog with this perfectly aired dog muzzle.
Click on the mastiff muzzles to view them closer
The Best Mastiff Muzzles Choice for Multipurpose Applying
Basket Muzzle for Mastiff Training and Daily Walking
Why these Mastiff Muzzles are the best?:

individually designed for a definite dog breed and sizes
quality materials
professional design
100% safe
certified quality
perfect basket to allow a dog breathe and pant freely
prevents biting

These Mastiff Muzzles can be applied for:

daily mastiff walking
off-leash mastiff training
walking your mastiff in public places
safety in socializing training
vet visiting

Sizes available:

the size depends upon the dog breed, gender and age

Available colors:
Check how these mastiff muzzles look on the dogs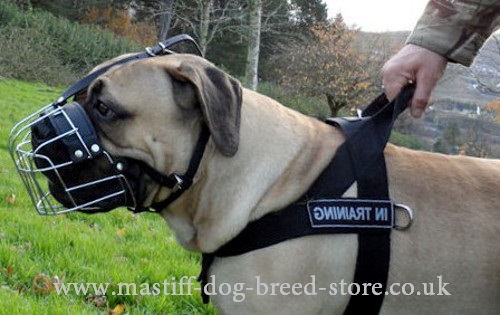 Wire Dog Muzzle on Bullmastiff
Perfect Basket Muzzle Form For Dogue De Bordeaux
Measure dog snout sizes in inches:
Length: measured from the nose tip to the line of eyes
Circumference: measure around the dog snout 1 in below the line of eyes
Eye Line: measured from the line of eyes to the line right below the ears
Neck Circumference: measured around the neck behind the ears
Width: measure the width of dog snout in the widest point
Height: measure snout height. Dog mouth should be a little open.
Click here for the instructions how to measure a dog for a muzzle
The company Fordogtrainers produces Mastiff muzzles over 20 years. We constantly improve the technologies and design of dog supplies to make them maximum comfortable, reliable and safe.
Dog muzzles make the wrong impression of torturing a dog. But let us assure you, that a correct muzzle size and design makes a dog feel free and comfortable and saves you from many troubles. This type of mastiff muzzles is indispensable for safe mastiff walking in public places, visiting a veterinarian, socializing with other pets, dogs and people.
Strong wire basket is smooth, polished and cast. It is tested to prove the reliability in use under huge loadings.
These best mastiff muzzles are soft padded, perfectly ventilated and securely fixed on dog's head.
Train your dog to wear a muzzle, help your pet to use to it and enjoy safe walking with your dog!
Turn your attention, please, that a dog muzzle does not resolve the problems of dog barking, dog aggression or dog behavior problems. Dog muzzle may prevent a dog from biting. But a dog may injure even with a muzzle on. If you wish to resolve these problems, we recommend to consult a dog trainer or behaviorist.