Dog Basket Muzzle with Soft, Genuine Leather Padding and Rubber Coated Steel Wire for Winter Dog Training and Walking
This dog basket muzzle has perfect form for mastiff snout. There are several mastiff sizes for big mastiff breeds. Each dog breed has specific features of a snout form. Our specialists try to make dog basket muzzle super comfortable for a dog to breathe free, pant, bark and drink muzzled, but to protect from biting at the same time.
The special feature of this mastiff dog basket muzzle is its inner leather padding. It minimizes dog contact with the basket. The wire is covered with black rubber to protect dog skin from burning and sticking to the steel wire in frosty weather. We recommend this dog basket muzzle for big mastiff breeds, for walking and dog training in cold weather.
Click on the dog basket muzzle to view it closer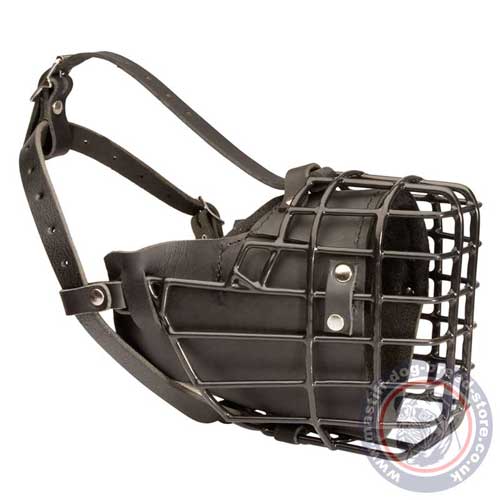 Soft Padded Large Dog Basket Muzzle for Big Mastiff Breeds
All dog products are tested and approved by professional dog trainers and veterinarians. The mastiff dog basket muzzle has the International Quality Certificate.
Why we recommend this dog basket muzzle:

100% safe materials of top quality
rustproof wire, strong and solid
rubberized wire prevents stickign and burning in frosty weather
padded with genuine leather inside
dog breathes, pants, drinks and barks muzzled
felt upper nose lining
reliably fixed on dog's head

Padded Dog Basket Muzzle is to be applied for:

big mastiff breeds
dog transportation
visiting a vet/groomer
safe dog walking
dog socializing
attack/agitationg training

Available sizes:

Available colors:
Measure dog snout sizes in inches:
Length: measured from the nose tip to the line of eyes
Circumference: measure around the dog snout 1 in below the line of eyes
Eye Line: measured from the line of eyes to the line right below the ears
Neck Circumference: measured around the neck behind the ears
Width: measure the width of dog snout in the widest point
Height: measure snout height. Dog mouth should be a little open
Click here for the instructions how to measure a dog for a muzzle
We care of your dog comfort and safety in any weather and season. This dog muzzle is perfect for use in winter. This dog basket muzzle is comfortable for warm weather as well. It is perfectly ventilated and allows a dog to drink water with the muzzle on.
Dog basket is fully padded with genuine leather inside. It prevents dog snout rubbing of the basket.
We use quality rustproof steel, that is lightweight. But it is recommended for big mastiff breeds.
Mastiffs are the representatives of the largest canines. But frequently big mastiff breeds even do not understand their power and do not use it, fortunately. They are friendly and happy to play with small pets and puppies. But if there is a need to protect their family, they would attack and fight till the end. These powerful dogs are great family friends and companion dogs. They are easy trained and controlled. Mastiffs are intelligent and clever. Train your dog from puppy age and treat it with love and patience. Then your dog will bring you a lot of positive emotions, its devotion, friendship and loyalty. Mastiffs are generally obedient dogs if trained properly.
But these large dogs are to be muzzled when walked in public places and for veterinarian visiting.
Choose comfortable, professionally handmade dog basket muzzle and save yourself from troubles and worries for your great dog.