K9 Dog Muzzle Mastiff Size of Professional Design in Painted Barbed Wire Style
K9 dog muzzle for mastiff size is extra strong dog muzzle intended for professional use. We produce quality dog muzzles for service dogs, K9 dog subdivisions, military and police dogs. All our dog training muzzles are improved in collaboration with experienced dog trainers.
Strong dog muzzle is handmade of genuine leather. It has comfortable basket form to let a dog breathe free and turn tongue out. It is asolutely safe for dogs. Use this K9 dog muzzle in active training and you will prove its quality and smart design. The basket is padded with soft felt inside to prevent upper nose area from rubbing.
Dog training of a service dog for agitation/attack will become much efficient with this strong dog muzzle, as it has metal plate inside the front basket part.
K9 dog muzzle is intended for active use in training, and that's why we cared to fix it reliably on dog's head. Look at the system of regulated head straps.
Click on the K9 dog muzzle to view it closer
Mastiff Muzzle info:

100% dog safe
non-toxic
hypoallergenic
soft and durable
front inner steel bar for efficient and sevure training
nose lining of felt
securely riveted and stitched
allows free breathing

What is K9 Dog Muzzle for?:

training of attack / agitation
protection
dog walking
dog socializing
K9 dogs
police, guard, military
obedience dog training

Sizes available:

fill in the measurements of your dog and our specialists will choose a proper size

Available colors:

barbed wire paint on black
Check how The K9 Dog Muzzle looks on Cane Corso Mastiff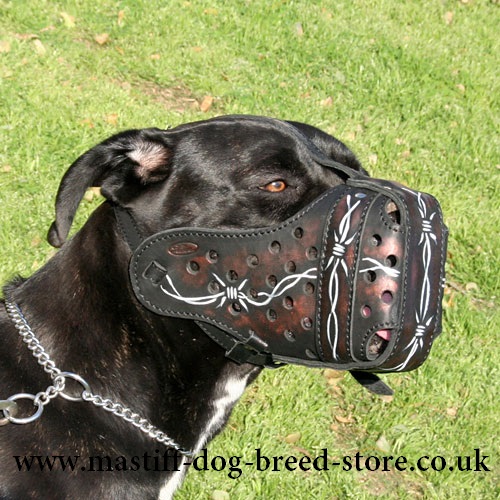 Designer, Handpainted Strong Dog Muzzle on Cane Corso Mastiff
Measure dog snout sizes in inches:
Length: line from the nose tip to the point between eyes
Circumference: around the dog snout 1 in below the eyes
Eye Line: from the point between eyes to right below the ears
Neck Circumference: around the neck behind the ears
Width: dog snout width (in the widest point)
Height: dog mouth should be slightly open while measuring.
Click here for the instructions how to measure a dog for a muzzle
Turn your attention at the professional design of this dog muzzle. It is invented for maximal durability and comfort. In addition, this dog muzzle has original painted design Barbed Wire, that is made by hands, with durable tints.