K9 Dog Muzzle with Metal Plate for Agitation, Mastiff Size
K9 dog muzzle is intended for professional agitation training.
The leather basket is designed to make a dog feel comfortable and prevent biting. It is padded with felt inside.
There is a metal plate in the front area for attack and agitation. The strong dog muzzle perfectly keeps form. Additional leather straps by the sides help to keep the muzzle form and make it stronger.
K 9 dog muzzle for mastiff size allows a dog breathe free muzzled. The holes provide normal ventilation for breating free.
Click on the pictures to see bigger image
Check how this K9 Dog Muzzle looks on Mastiff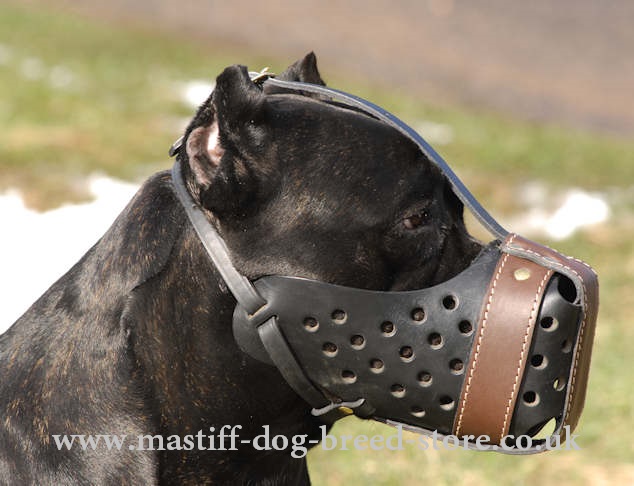 Mastiff Size K9 Dog Muzzle
The features of this K9 Dog Muzzle:

special design for professional use
perfect comfort for dog in training
special shape for dog snout form
allows a dog pant and bark muzzled
prevents biting, chewing
steel inner bar in from muzzle area
padded with felt in the upper snout area
additional side straps

Intended use of this Mastiff Muzzle:

K9 dogs
agitation/attack dog training
police/military dogs
dog socialization
home/kennel
vet visiting

Sizes available:

over 3 sizes available (the size depends upon the dog's gender and age)

Available colors:
Measure dog snout sizes in inches:
Length: line from the nose tip to the point between eyes
Circumference: around the dog snout 1 in below the eyes
Eye Line: from the point between eyes to right below the ears
Neck Circumference: around the neck behind the ears
Width: dog snout width (in the widest point)
Height: dog mouth should be slightly open while measuring.
Click here for the instructions how to measure a dog for a muzzle
Choose professional K9 dog muzzle for efficient dog training.