Basket Cage Dog Muzzle for Mastiff Agitation Training
Basket cage dog muzzle is a safe and super comfortable tool for a large dog. try this professional dog muzzle for agitation training. The basket cage dog muzzle is made of strong, solid basket with smooth, rustproof, strong wire. Dog snout is securely protected. The contact of dog snout with wire is minimized by soft leather padding. The basket cage muzzle has additionla fleece linign in the upper nose area. It secures a dog from rubbing and hurting. A dog may breathe, bark, pant free with this basket cage dog muzzle on. We use only genuine leather of high quality. It will serve you a good service. Try this large, strong, comfortable basket cage dog muzzle for mastiff training.
Click on the dog basket muzzle to view it closer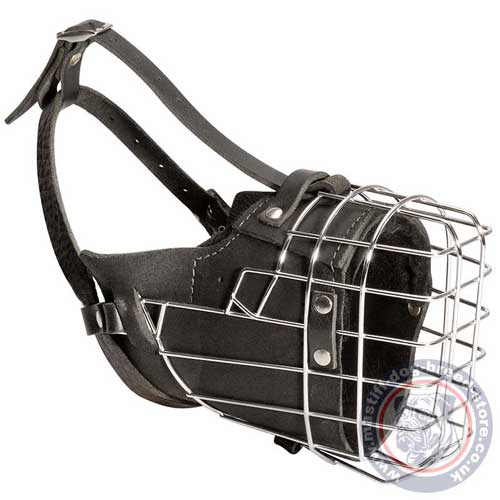 Leather Padded Basket Cage Dog Muzzle for Mastiff Training
All dog products are tested and approved by professional dog trainers and veterinarians. The basket cage dog muzzle has the International Quality Certificate. Basket Cage Dog Muzzle for Mastiff is designed with maximum attention to each detail to make it super reliable, safe and comfortable in use.
Why we recommend this basket cage dog muzzle:

designed for dog snout form
several sizes to fit your dog maximum comfortably
rustproof, quality steel wire
inner genuine leather lining
well-done, quality leather with polished smooth edges
nose fleece padding
reliably fixed with leather belts
riveted joints
perfectly ventilated
a dog breathes and pants free

Basket Dog Cage Muzzle is to be applied for:

big mastiff breeds
dog transportation
visiting a vet/groomer
safe dog walking
dog socializing
attack/agitationg training

Available sizes:

fill in the sizes of your dog and our experts will choose the maximum fit size

Available colors:
Measure dog snout sizes in inches:
Length: measured from the nose tip to the line of eyes
Circumference: measure around the dog snout 1 in below the line of eyes
Eye Line: measured from the line of eyes to the line right below the ears
Neck Circumference: measured around the neck behind the ears
Width: measure the width of dog snout in the widest point
Height: measure snout height. Dog mouth should be a little open
Click here for the instructions how to measure a dog for a muzzle
We care of your dog comfort and safety in walking, training and other daily situations. This large basket cage muzzle with soft leather padding is super comfortable for big mastiff dogs.