Strong Dog Collar for Powerful Neapolitan Mastiff, 1.6 In Leather!
Neapolitan Mastiff dog breed representatives are large, powerful, muscular dogs. They are perfect family guard dogs if trained and socialized properly. Neapolitan Mastiff training requires patience and consistency. Of couse, to handle and keep a large Neapolitan Mastiff under control, you will need a strong dog collar.
We propose to choose a wide dog collar made of 1.6 in leather strap and supplied with a strong buckle and ring. This wide dog collar is well-done, handmade and reliably fastened.
Classic design of this strong dog collar is a perfect choice for Neapolitan Mastiff reliable control in walking and training. Wide leather collar does not hurt or rub dog's neck. Choose this strong dog collar to get comfort, reliability and control over your dog at the same time.
View a larger image by clicking on the pictures
Wide Dog Collar Info:

full grain genuine leather
strong, rustproof, nickel plated steel buckle and ring
easy and reliably adjustable
certified

Intended Use of this Strong Dog Collar:

perfect tool to control a powerful dog
comfort in daily use
dog walking and training

Available sizes:

1.6 in wide (4 cm)
from 14 to 40 in long (from 35 to 100 cm)

Available colors:
Strogn dog collar looks perfectly on Neapolitan Mastiff!
Look at the photos from our customers
View a larger image by clicking on the pictures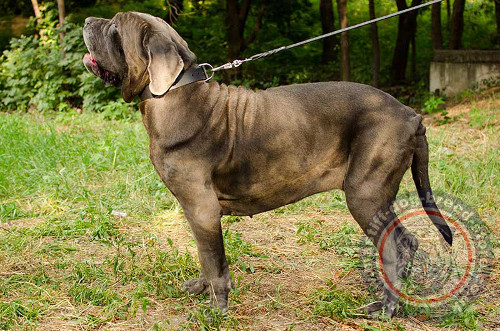 Neapolitan Mastiff Looks and Feels Gorgeous with Wide Leather Dog Collar!
View a larger image by clicking on the pictures
Strong Dog Collar for Powerful Dog Like Neapolitan Mastiff
Choose a correct size of a Wide Dog Collar:

Important information:
Choose neck size from the options at the top and we will make a dog collar fitting on a central hole (С at the scheme).
Each dog collar with buckle has 5 holes on the distance of 1 inch (25 mm) between each two holes.
Example: if a dog neck size is 20 inches (50 cm), a collar will have size 20 in (50 cm) on the central hole.
There will be 2 smaller size holes - 18 inch (45 cm) and 19 inch (47.5 cm).
There will be 2 bigger size holes - 21 inch (52.5 cm) and 22 inch (55 cm).
There will also be tip of the collar after last hole about 2 inch long (5 cm).
These dog collars are handcrafted and some sizes will differ a little (not in significant way). But you will always have the chance to adjust it maximum fit for your dog.
Choose 2 ply leather collars and padded leather dog collars size 1 inch bigger to make sure that it will fit your dog.
We strongly recommend:
It is important to make the proper measurements to choose the right collar size.
The leather collar will serve you for a long time, if stored properly. Please, follow simple rules of leather collar service: - do not expose the product to straight, excessive sun rays, water or moister contact - buy special leather sprays, creams and water repellents to prevent leather getting dry and cracked.
Put off the collar when at home or there is no need to wear it.