Studded Dog Collar for Neapolitan Mastiff Fashion and Comfort
Do you want your dog to look stunning and attract looks of admiring passers-by? Your gorgeous Neapolitan Mastiff deserves the best quality dog collar, that will underline its grace and style.
Studded dog collar is decorated with square brass elements. It is a strong natural leather dog collar for mastiff. Classic buckle and ring makes this studded dog collar functional and easy in use.
Neapolitan Mastiff is a powerful dog. This studded dog collar is made of thick natural leather, to make dog walking of mastiff comfortable and controlled. Natural leather dog collar for Neapolitan Mastiff is a reliable and comfortable tool for a large dog.
To see bigger image, click at the photos
Studded Dog Collar for Gorgeous Look of Your Mastiff
Brass Studded Dog Collar with Classic Buckle Design
Key features of this Studded Dog Collar:

elegant style
brass studded design
natural leather dog collar
cast D-ring
classic buckle for easy use and fixation
handmade

How to use of this Neapolitan Mastiff Collar:

controlled and comfortable dog walking of your Neapolitan Mastiff (or other dog breed)

Sizes available:

1 inch (25 mm) wide
14-40 in long sizes available

Available colors:
Studded dog collar's size:

Please, be advised, that:
Choose neck size from the options at the top and we will make a dog collar fitting on a central hole (С at the scheme).
Each dog collar with buckle has 5 holes on the distance of 1 inch (25 mm) between each two holes.
Example: if a dog neck size is 20 inches (50 cm), a collar will have size 20 in (50 cm) on the central hole.
There will be 2 smaller size holes - 18 inch (45 cm) and 19 inch (47.5 cm).
There will be 2 bigger size holes - 21 inch (52.5 cm) and 22 inch (55 cm).
There will also be tip of the collar after last hole about 2 inch long (5 cm).
These dog collars are handcrafted and some sizes will differ a little (not in significant way). But you will always have the chance to adjust it maximum fit for your dog.
Choose 2 ply leather collars and padded leather dog collars size 1 inch bigger to make sure that it will fit your dog.
Studded Dog Collar Benefits
Studded dog collar creates elegant style of your dog.
Designer dog collar will underline your taste.
Natural leather dog collar is non-allergic and reliable in use.
Genuine leather with waxed and polished edges will serve you for a long time if stored properly.
Studded Dog Collar on Neapolitan Mastiff
Photos from our customers
To see a bigger image, click at the photo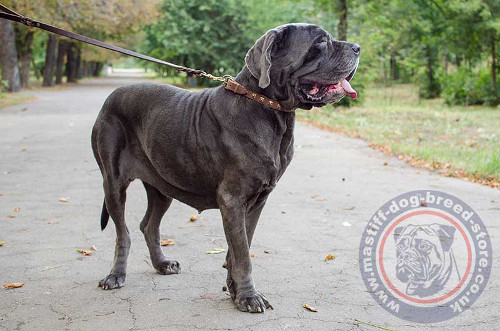 Perfect Style of Neapolitan Mastiff
To see a bigger image, click at the photo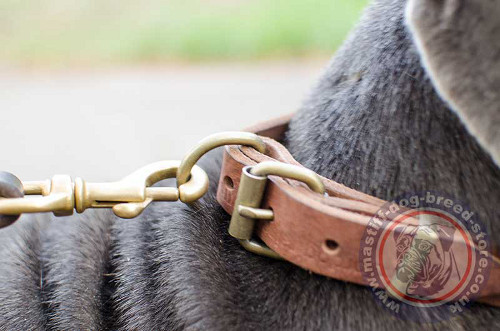 Choose Comfort, Strength and Elegant Style with this Studded Dog Collar