Neapolitan Mastiff Collar with Patches Made of Super Strong Nylon
Neapolitan Mastiff collar is designed to manage the temper and to control a large, powerful mastiff dog breed. Nylon is a very strong and reliable material, that perfectly fits for daily, long term use, under huge loadings and on strong dogs. Sign patches will help you to underline and point out a service dog, assistance dog, police dog etc.
Click on the pictures to see bigger image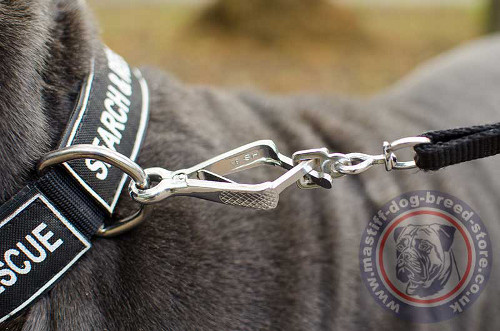 Strong Nylon Dog Collar with Welded Metal Ring
Click on the pictures to see bigger image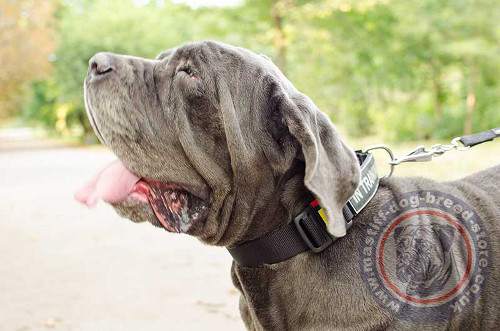 Super Design of Nylon Dog Collar for Neapolitan Mastiff Training
Neapolitan Mastiff Collar Info:

quality nylon, wide and thick strap
strong, rustproof, chrome-plated metal D-ring
simple and strong quick-release buckle
sign patches according to dog service or work up to you choice (choose option at the top of the page)
certified quality

Intended Use of this Nylon Dog Collar:

perfect control over strong and active Neapolitan Mastiff
fits for medium and large size dogs
dog walking, vet visiting
service dogs
Neapolitan Mastiff training

Available sizes:

18 - 21 inches (45 - 52 cm)
20 - 25 inches (50 - 61 cm)
24 - 34 inches (61 - 85 cm)

Available color:
Nylon dog collar is a super strong and reliable tool for Neapolitan Mastiff training.
Click on the pictures to see bigger image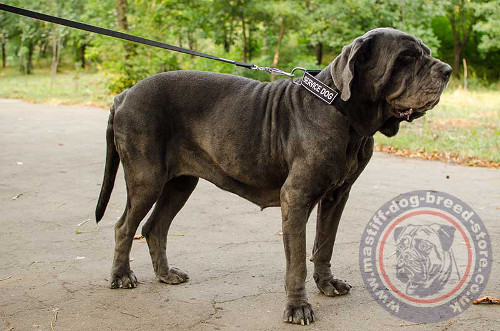 Neapolitan Mastiff Looks Perfect with Strong, Wide Nylon Dog Collar with Patches
Measure dog's neck to choose the proper size at the top of the page.