Strong Stuff Dog Collars with 2 Ply Leather and Braided Design
Are you looking for strong stuff dog collars for your Mastiff? We propose a large dog collar to help you to walk and train your powerful dog easy! Try this large dog collar on your Neapolitan Mastiff and you will see how easy it is adjusted.
Strong stuff dog collars are functional dog gear for dog walking and training. 2 ply strong leather belt is securely hand-stitched and fastened with brass rivets for additional durability. Welded D-ring and strong buckle underline strength of your dog and are reliable and easy in use.
Take care of a dog's fur: the dog collar is equipped with special protecting leather plate that covers a buckle inside and prevent rubbing and cutting of dog fur.
Click on image and view a larger photo
The key features of this Large Dog Collar:

super strong, quality leather
2 ply securely stitched and riveted belt
handcrafted
fur protective plate covering a buckle
extra wide
elegant leather braids, stitched and riveted

Intended use of these Strong Stuff Dog Collars:

strong dog like Neapolitan Mastiff
dog walking with style, comfort and control
handling your active dog

Available sizes:

1 3/4 inch (45 mm) wide
will fit for dogs with neck size from 18 to 40 in (choose option at the top of the page)

Available colors:
Click on image and view a larger photo
Strong Stuff Dog Collars' size:

Please, be advised, that:
Choose neck size from the options at the top and we will make a dog collar fitting on a central hole (С at the scheme).
Each dog collar with buckle has 5 holes on the distance of 1 inch (25 mm) between each two holes.
Example: if a dog neck size is 20 inches (50 cm), a collar will have size 20 in (50 cm) on the central hole.
There will be 2 smaller size holes - 18 inch (45 cm) and 19 inch (47.5 cm).
There will be 2 bigger size holes - 21 inch (52.5 cm) and 22 inch (55 cm).
There will also be tip of the collar after last hole about 2 inch long (5 cm).
These dog collars are handcrafted and some sizes will differ a little (not in significant way). But you will always have the chance to adjust it maximum fit for your dog.
Choose 2 ply leather collars and padded leather dog collars size 1 inch bigger to make sure that it will fit your dog.
Strong Stuff Dog Collars look gorgeous on Neapolitan Mastiffs
Click on image and view a larger photo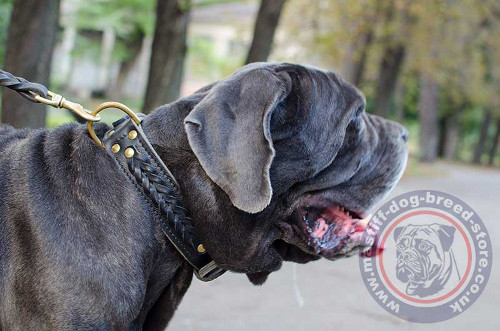 Elegant Style for Your Powerful Pet
Click on image and view a larger photo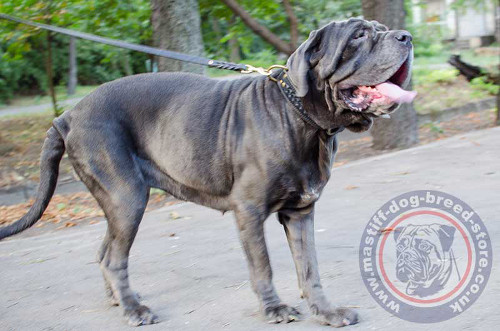 Easy Walk Strong Stuff Dog Collars
More details about this Large Dog Collar:
Hand-made of leather material the strong dog collar is extra soft and pleasant to touch. But remember, that you should use water repellent to save it from the moisture influence. If you take care of a leather item properly, it will serve you a good and long service.
These strong stuff dog collars have stylich braided design, that will make any dog look smart and feel super comfy!