Handmade Leather Dog Collars for Neapolitan Mastiff, with Elegant, Massive Silver Color Plates
Handmade leather dog collars for Neapolitan Mastiff will add luxury look to your favorite pooch.
Neapolitan Mastiff has gorgeous, powerful body. This dog looks fearful and is a perfect family guard. Underline strength ond bravery of your dogs with these handmade leather dog collars! Massive and elegant plates are perfect design for a strong dog breed like Neapolitan Mastiff. Silver color plates perfectly match to Neapolitan Mastiff fur color.
This handmade leather dog collar is thick, wide and strong to keep Neapolitan Mastiff under control in daily walking.
View a larger image by clicking on the pictures
The main characteristics of these Leather Dog Collars:

reliable design for powerful dogs
solid, rustproof hardware
massive, elegant plates
securely riveted
easily adjustable

Intended use of the Neapolitan Mastiff Collars:

Control over Neapolitan Mastiff at walking and public places
handling of powerful dogs like Neapolitan Mastiff

Available sizes:

1 1/2 inch (40 mm) wide
weight 0.81 lbs (370 g)

Available colors:
Size of the Handmade Leather Dog Collars:

Please, be advised, that:
When you specify neck size, we will make collar fit on central hole.
There will be total of 5 holes and distance between each 2 holes is 1 inch (25 mm).
For example: your dogs neck size is 20 inches (50 cm). Collar will fit on central hole at 20 inches (50 cm).
There will be 2 smaller size holes - 18 inch (45 cm) and 19 inch (47.5 cm).
There will be 2 bigger size holes - 21 inch (52.5 cm) and 22 inch (55 cm).
There will also be tip of the collar after last hole about 2 inch long (5 cm).
Those are handcrafted collars and some sizes will differ a little (not in significant way).
Check how Handmade Leather Dog Collars look on Neapolitan Mastiff
Pictures from our customers
View a larger image by clicking on the pictures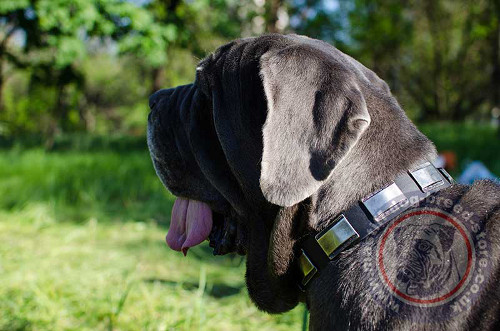 Choose Handmade Leather Dog Collars for Control Over Powerful Dogs
View a larger image by clicking on the pictures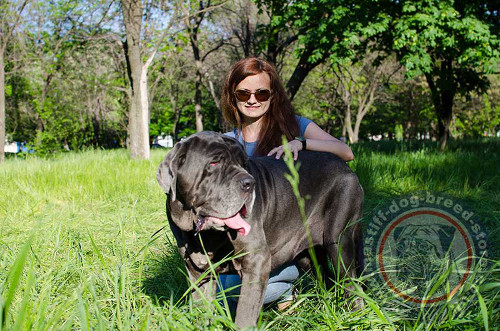 Pamper Your Favorite Pets with Quality Dog Accessories from the Producer Directly