Luxury Leather Dog Collars with Dotted Brass Plates for Mastino Napoletano
Luxury leather dog collars will help you to manage Mastino Napoletano temper, make it obedient, controlled, stylish and fashionable. Luxury leather dog collars are handmade for the best quality and reliability. We create our handmade dog collars with attention to each single detail. You may be sure in durability and safety of our luxury dog collars for your large pets. Handmade dog collars are strong enough for power of Mastino Napoletano. Though it has muscular body, this leather dog collar is thick and wide enough to coupe with this strength.
View a larger image by clicking on the pictures
The key features of Luxury Leather Dog Collars:

elegant design with dotted brass plates
classic buckle and additional holes for easy adjusting and fixation
solid D-ring for walking on a lead
quality genuine leather
handmade
wel-done, polished and waxed edges to prevent fray and wearing out

Intended use of these Handmade Dog Collars:

basic dog training
dog walking on lead
vet visiting
Neapolitan Mastiff and other medium and large dogs

Available sizes:

1 1/2 inch (40 mm) wide
14-40 in long sizes available

Available colors:
Size of Luxury Leather Dog Collars:

Please be advised that:
For buckle collar the size of dog's neck corresponds to the length at the central hole.
There will be total of 5 holes and distance between each 2 holes is 1 inch (25 mm).
For example: your dogs neck size is 20 inches (50 cm). Collar will fit on central hole at 20 inches (50 cm).
There will be 2 smaller size holes - 18 inch (45 cm) and 19 inch (47.5 cm).
There will be 2 bigger size holes - 21 inch (52.5 cm) and 22 inch (55 cm).
There will also be tip of the collar after last hole about 2 inch long (5 cm).
Those are handcrafted collars and some sizes will differ a little (not in significant way).
Genuine leather is safe and non-toxic for a dog. It is a natural material, that will not cause allergy even if your dog is sensitive. Take a proper care of leather dog collar and it will keep its look and reliability for many years.
Check how these Luxury Leather Dog Collars look on Neapolitan Mastiff
Pictures from our customers
View a larger image by clicking on the pictures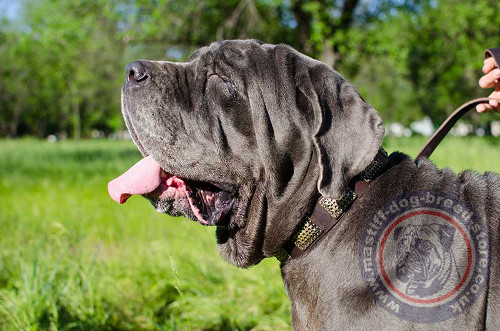 Luxury Leather Dog Collars for Strong Dogs Like Mastino Napoletano
View a larger image by clicking on the pictures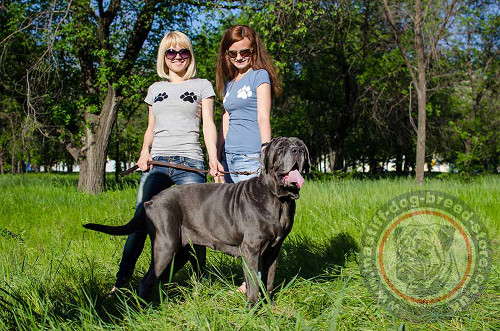 Your Gorgeous Mastino Napoletano Deserves this Luxury Dog Accessory!