Spiked Dog Collar with Nappa Lining for Mastino Napoletano
Spiked dog collar is a luxury accessory for a large, powerful dog of mastiff dog breed. It is a perfect choice for easy walking of your four-legged friend. Padded dog collar has inner soft Nappa lining, reliably stitched. It prevents rubbing and makes your large pet feel comfortable under your powerful control in daily walking and training. Mastino Napoletano is a muscular beast. We use strong genuine leather, wide strap, to make this spiked dog collar a reliable tool to handle your dog.
View a larger image by clicking on the pictures
Super Luxury Spiked Dog Collar for Mastiff
Strong and Soft Nappa Padded Dog Collar for Easy Mastiff Walking
The key characteristics of this Spiked Dog Collar:

premium quality
royal spiked design
2 rows of gorgeous brass spikes
relaibly stitched and fixed with brass, safe polished rivets
strong, solid brass D-ring for lead and tag
super comfortable Nappa lining

Intended use of this Soft Padded Dog Collar:

walking in style
obedience training
strong dog control with style, comfort and reliability

Available sizes:

over 25 sizes available
1 1/2 inch (40 mm) wide
Weight 1.14 lbs (520 g)

Available colors:
Brown Leather Padded Dog Collar for Mastino Napoletano
Comfortable and Reliable Dog Collar for Mastino Napoletano in Brown Leather
Define Padded Dog Collar's Size for Your Mastiff:

Please be advised that:
For buckle collar when you specify neck size we will make collar fit on central hole.
There will be total of 5 holes and distance between each 2 holes is 1 inch (25 mm).
For example: your dogs neck size is 20 inches (50 cm). Collar will fit on central hole at 20 inches (50 cm).
There will be 2 smaller size holes - 18 inch (45 cm) and 19 inch (47.5 cm).
There will be 2 bigger size holes - 21 inch (52.5 cm) and 22 inch (55 cm).
There will also be tip of the collar after last hole about 4 inch long (10 cm).
Those are handcrafted collars and some sizes will differ a little (not in significant way).
2 ply leather collars and padded leather collars are 2 inch bigger flat on the table to make sure that it will fit your dog.
Luxury Spiked Dog Collar looks gorgeous on Mastino Napoletano
Pictures from our customers
View a larger image by clicking on the pictures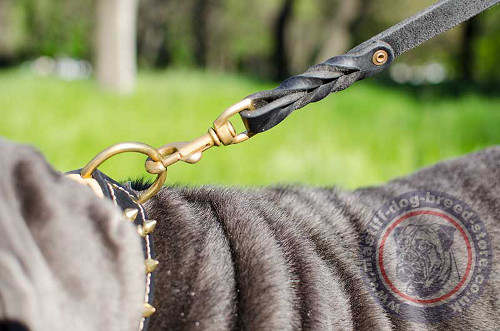 Strong Dog Collar for Mastino Napoletano with Solid Brass Ring
View a larger image by clicking on the pictures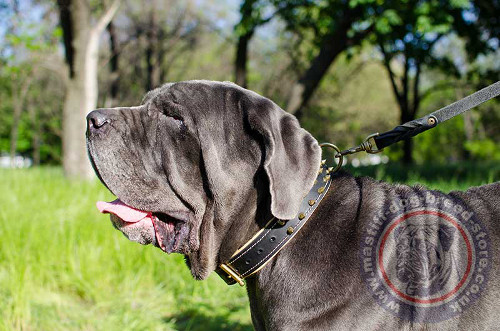 Luxury Brass Spiked Dog Collar for Your Powerful Mastino!