Handmade Dog Collar in Brass Studded Necklace Style for Neapolitan Mastiff Walking
Handmade dog collar is a perfect choice if you are looking for a reliable and nice-looking tool for walking your four-legged friend daily. If you wish to make the walking stylish and comfortable, this nice model of dog leather collars will become a good help. It is a classic model of dog leather collars, handmade by professionals. Handmade dog collar is thick and strong. Elegant brass plated necklace style will make daily dog walking of your mastiff stylish and bright. Make your dog look gorgeous each day! Strong leather with solid buckle and ring will help to control a large dog like Neapolitan Mastiff.
View a larger image by clicking on the pictures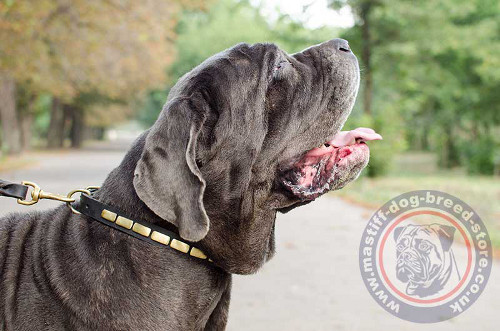 Well-Done Handmade Dog Collar for Stylish Brigt Look Daily
View a larger image by clicking on the pictures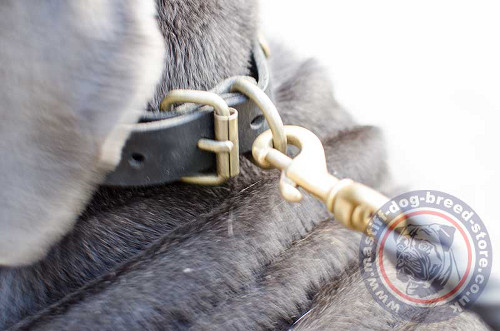 Strong Dog Leather Collar with Solid Ring and Buckle
The main features of this Handmade Dog Collar:

well-done leather
solid brass hardware
welded D-ring for leash attachment
handcrafted reliability and quality
elegant brass plates, fixed with rivets

Intended use of these Dog Leather Collars:

Neapolitan Mastiff training
Neapolitan Mastiff walking daily
handling of a powerful dog like Neapolitan Mastiff and other dog breeds

Available sizes:

Available colors:
Measure your Mastiff to choose a proper dog collar's size:

Please be advised that:
For buckle collar when you specify neck size we will make collar fit on central hole.
There will be total of 5 holes and distance between each 2 holes is 1 inch (25 mm).
For example: your dogs neck size is 20 inches (50 cm). Collar will fit on central hole at 20 inches (50 cm).
There will be 2 smaller size holes - 18 inch (45 cm) and 19 inch (47.5 cm).
There will be 2 bigger size holes - 21 inch (52.5 cm) and 22 inch (55 cm).
There will also be tip of the collar after last hole about 2 inch long (5 cm).
Those are handcrafted collars and some sizes will differ a little (not in significant way).
2 ply leather collars and padded leather collars are 1 inch bigger to make sure that it will fit your dog.
Important information about these Dog Leather Collars:
The health and safety of Your Mastiff is our priority. We use only quality, pet-firendly materials to create dog accessories and training tools for your Mastiffs.
All dog leather collars have the International Quality Certificate.
All dog leather collars for Mastiff are handmade. We create dog accessories with attention to each detail, to make them serve you for a long time and be a good help in dog walking and training.