Neapolitan Mastiff Collars in Fashion for Special Look of Your Four-Legged Friend!
Neapolitan Mastiff collars in fashion have gorgeous sparkling look. The genuine leather belt is luxury decorated with metal pyramids. These Neapolitan Mastiff collars are ahnds-assembled for maximum durability. Strong and stylish dog collars in fashion are a perfect choice for daily walking of your dog!
The key characteristics of the Neapolitan Mastiff Collars:

handmade
genuine leather
rustproof metal elements
strong buckle and cast D-ring
3 rows of glossy pyramids
reliable fixation with secure rivets
fashion, strength and reliability

Intended use of the Neapolitan Mastiff Collars:

basic training
dog walking
handling your Mastiff dog

Available sizes:

1 1/2 inch (40 mm) wide
0.83 lbs weight

Available colors:
Measure your dog for a new Mastiff Dog Collar:

Please be advised that:
For buckle collar when you specify neck size we will make collar fit on central hole.
There will be total of 5 holes and distance between each 2 holes is 1 inch (25 mm).
For example: your dogs neck size is 20 inches (50 cm). Collar will fit on central hole at 20 inches (50 cm).
There will be 2 smaller size holes - 18 inch (45 cm) and 19 inch (47.5 cm).
There will be 2 bigger size holes - 21 inch (52.5 cm) and 22 inch (55 cm).
There will also be tip of the collar after last hole about 2 inch long (5 cm).
Those are handcrafted collars and some sizes will differ a little (not in significant way).
Leather dog collar is smooth and soft inside and stylish looking. The metal pyramids are reliably fixed with rustproof, smooth rivets.
Check how these Neapolitan Mastiff Collars look on the dogs
Pictures from our customers
Click on the pictures to see bigger image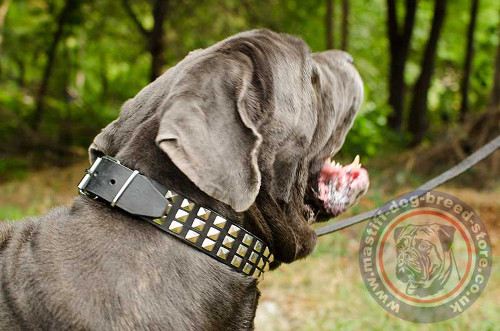 Neapolitan Mastiff Collars for Dog Fashion and Comfort in Use
Click on the pictures to see bigger image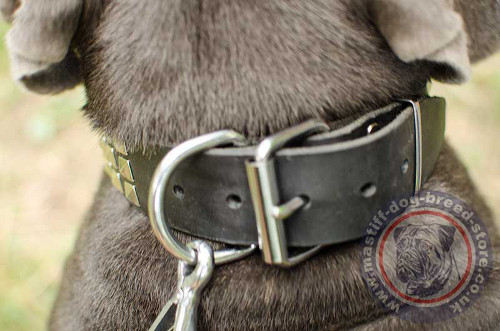 Durable, Strong Dog Collars with Buckle and Ring