Neapolitan Mastiff Dog Collar Design with Studs and Pyramids, 3 cm
Neapolitan Mastiff dog collar design makes your dog look smart at daily dog walking. Strong, genuine leather dog collar is a reliable tool to handle and control your powerful Neapolitan Mastiff dog. Thick dog collar is soft and strong. Dog collar design with brass rivets and steel pyramids make classic look of a buckle collar more elegant.
View a larger photo by clicking at the image
Studded Leather Neapolitan Mastiff Dog Collar Design
Neapolitan Mastiff Dog Collar for Comfortable Daily Walking
Reasons to buy this Neapolitan Mastiff Dog Collar:

awsome style
full grain genuine leather
dog-safe materials
solid metal buckle and rings for lead and tip fixation
rust-free chrome-plated hardware
extra durable
sits great on dog's neck
certified quality

When to use Neapolitan Mastiff Dog Collar:

Neapolitan Mastiff walking
Basic Neapolitan Mastiff dog training
at home
in kennel

Sizes available:

1.2 inch (30 mm) wide
weight 0.59 lbs (270 g)

Available colors:
Mastiff collar size:

Please, be advised, that:
Please, specify neck size and we will make a collar fit at the central hole.
There will be 5 holes and distance between each 2 holes is 1 inch (25 mm).
For example: your dog's neck size is 20 inches (50 cm). Collar will fit on central hole at 20 inches (50 cm).
There will be 2 smaller size holes - 18 inches (45 cm) and 19 inches (47.5 cm).
2 bigger size holes - 21 inch (52.5 cm) and 22 inch (55 cm).
There will also be a tip of the collar after last hole about 2 inches long (5 cm).
Those are handcrafted collars and some sizes will differ a little (but not significantly).
Neapolitan Mastiff temperament is calm and patient. These dogs are easy controlled and trained. Most of mastiffs even do not imagine their power. They are not aggressive to other people and animals. The only case you may need to manage, is cats chazing. Mastiffs are dogs, and it is in their nature. But you may easy handle this issue with a consistent training and patience. Read our article to get to know more about Mastiff temperament and behavior. This leather dog collar will help you in control and basic training of your Neapolitan Mastiff.
Check how this Dog Collar Design looks on Neapolitan Mastiff Dog
Pictures from our customers
View a larger photo by clicking at the image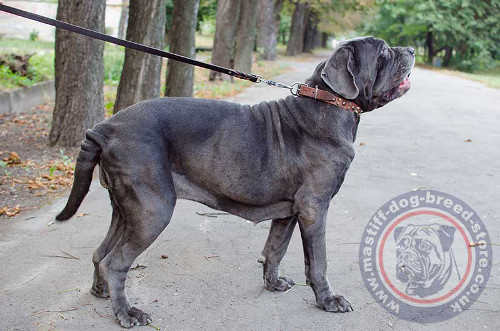 Comfortable, Soft and Strong Leather Dog Collar for Neapolitan Mastiff Dog Breed
View a larger photo by clicking at the image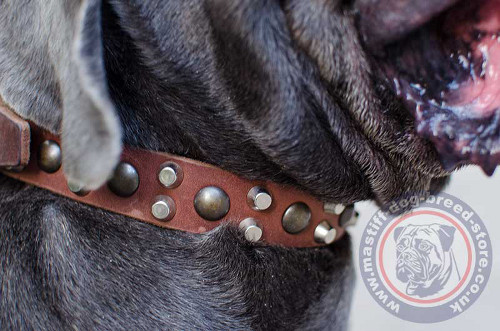 Elegant Studded Dog Collar Design