The Best Dog Collar Design Combining Smart Style and Strength for a Powerful Mastiff
The best dog collar design is a combination of reliability, functionality and elegance. Neapolitan Mastiff collar made of nylon is incredibly strong. It may be used in any weather conditions. The hardware and adornments are rustproof. Walk your dog with style and comfort. Choose the best dog collar design for daily use, perfect look of your dog and reliable control in public, training and vet visiting.
Larger photos are available after click at the images
The key info of the Best Dog Collar Design:

handmade
wide, strong nylon of high quality
2 ply
rustproof hardware
designer nickel-plated pyramids
cast D-ring to attach a dog leash and tug

Intended use of the Best Dog Collar:

Neapolitan Mastiff temperament handling
Neapolitan Mastiff walking with comfort and style

Available sizes:

1.5 in wide (40 mm)
14-40 in length

Available colors:
Dog Collar Size:

Turn your attention:
Measure and choose neck size from the options at the top.
New dog collar will fit dog's neck size chosen on a central hole (С at the scheme).
Each dog collar with buckle has 5 holes on the distance of 1 inch (25 mm) between each two holes.
You will have 4 additional holes for the cases if your dog loses or gains weight (holes A, B, D, E at the scheme).
More information about this Dog Collar:
We use the best quality materials, which are absolutely safe for your dog.
Nylon dog collar will serve you for a long and good service. It is used in any weather conditions and does not require special care and storage.
All the fittings are solid, cast, rust and corrosion resistant. They will keep their shining look for years.
The strong dog collar is equipped with D-ring which is reliably fixed with rivets.
Pyramide-form decorations make this collar look elegant and underline the original breed of your dog. These pyramids are securely fastened with inner safe polished rivets.
Check how this Leather Dog Collar looks on Neapolitan Mastiff
Pictures from our customers
Larger photos are available after click at the images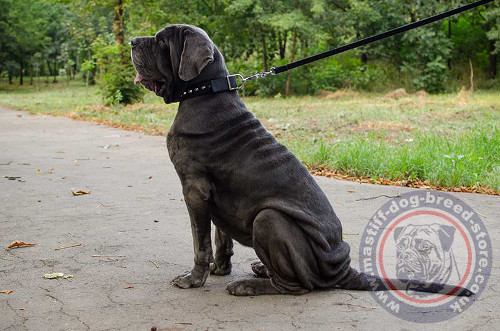 Perfect Choice for a Powerful Dog Like Neapolitan Mastiff
Larger photos are available after click at the images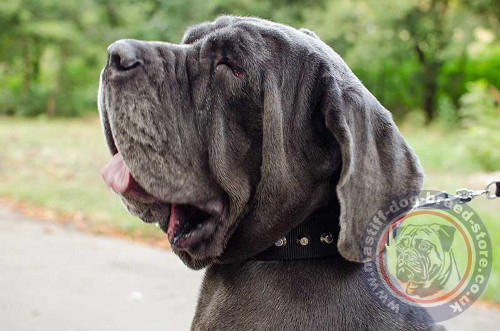 The Best Dog Collar for Neapolitan Mastiff regular Walkign with Style and Reliable Control