Mastiff Harness for Training & Neapolitan Mastiff Temperament Control
Let us propose you the best design of a leather dog harness for a large dog. Our specialists used the experience of top dog trainers to create a super comfortable and reliable tool for Nepolitan Mastiff temperament and power reliable control. Super strong genuine leather is absolutely natural and dog-friendly, non-allergic material. Leather dog harness is the best choice of a reliable and comfortable tool for Neapolitan Mastiff training.
Leather dog harness has a front triangle plate, that is comfortable for dog body structure. It protect dog's chest and does not disturb it at active training and walking.
The front and back plates has soft felt lining. It prevents rubbing.
The side straps are regulated to fit your dog maximum comfortably.
Check how this Leather Dog Harness looks on Neapolitan Mastiff
Pictures from Our Customers
Click on image and view a larger photo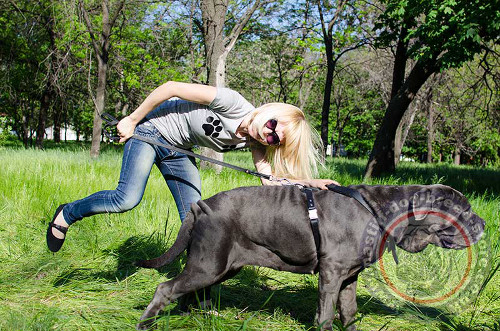 Neapolitan Mastiff Temperament Control Harness
Click on image and view a larger photo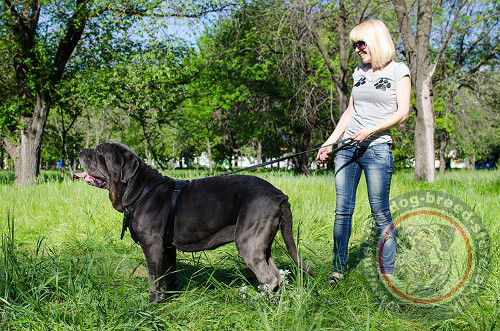 Leather Dog Harness Bestseller for Neapolitan Mastiff Training
The benefits of this Mastiff Harness:

Dog-friendly, non-toxic, hypoallergenic materials
Well-done leather of high quality
Strong & rustproof hardware
Padded chest and back plates
Regulation buckles for size adjusting
The International Quality Certificate
Handcrafted

Intended use of this Leather Dog Harness:

Neapolitan Mastiff walking
Neapolitan Mastiff training
Neapolitan Mastiff temperament control
For medium and large dogs
K9 dogs
Attack and agitation training

Sizes available:

Available colors:
Leather dog harness will serve you for a long time. This model of Mastiff harness is designed based on the experience of dog trainers and canine experts. This is the best design fo leather dog harness for a strong and large dog breed like Neapolitan Mastiff. This Mastiff harness is functional, comfortable and reliable.
Feedback from Our Customers
Published testimonials are genuine and are not edited or altered by Mastiff-Dog-Breed-Store.co.uk
I just received my leather harness today and I just wanted to tell you that I LOVE the harness it is the finest peice of work I have seen in a long time when it comes to harness for dog this is the best quality and wonderful craftsmanship. Thank you so much for the wonderful product and I will definitely will buy from your wed site again.
From : Bobbi, USA

---
Very quick delivery, and a stunning piece of equipment. Gives the dog a very regal look, a real head turner.
From : Brian, UK