Best Dog Harness for Neapolitan Mastiff Comfortable Walking and Training
The best dog harness design is created by our specialists to make your dog feel super comfortable and do not disturb, but help in walking and training your powerful pet.
The best dog harness choice is the leather dog harness with soft nappa lining. It prevents rubbing of dog skin in active walking and training daily.
Neapolitan Mastiff training and walking requires reliable tools. This genuine leather dog harness is the best choice for this aim.
Many of owners of large dogs like Neapolitan Mastiff have chosen this dog accessory and are satisfied with its perfect design and reliability.
The back handle is a perfect option, that will help you to grip your dog and control it on a close distance.
Check how the Best Dog Harness looks on Neapolitan Mastiff
Pictures from Our Customers
Click on image and view a larger photo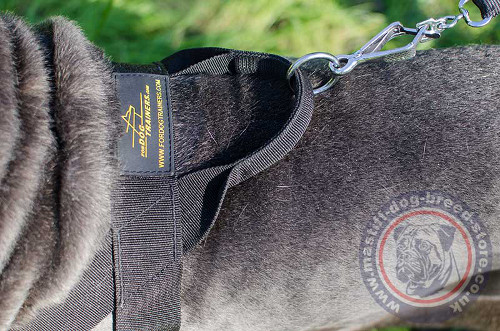 Neapolitan Mastiff Dog Harness with Handle
Click on image and view a larger photo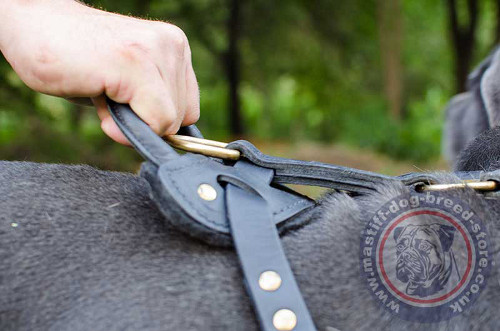 Reliable Control for Neapolitan Mastiff Training
Click on image and view a larger photo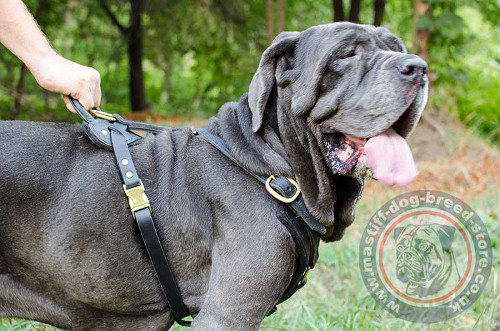 The Best Dog Harness for Neapolitan Mastiff Training
Click on image and view a larger photo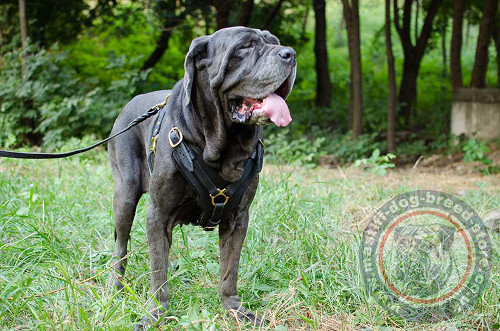 The Best Dog Harness Choice for a Strong Mastino Napoletano
The benefits of the Best Dog Harness:

Genuine leather is dog-friendly, non-toxic & hypoallergenic
Handmade
Brass hardware
Padded with soft fleece
Regulated size
The International Quality Certificate

Intended use of the Best Dog Harness:

Neapolitan Mastiff walking
Neapolitan Mastiff training
Neapolitan Mastiff temperament handling
For medium and large dog sizes
K9 dogs
Attack/agitation training

Sizes available:

Available colors:
Feedback from Our Customers
Published testimonials are genuine and are not edited or altered by Mastiff-Dog-Breed-Store.co.uk
Just to let you know my order of dog harness has arrived safe and sound. The quality and fit is excellent, so pleased that i bought this item from your company.Thanks again.
From : Dave, UK