Dog Running Harness with Handle for Multipurpose Use
Dog running harness for Neapolitan Mastiff is a strong dog harness for comfort in any use, any weather and on any dog. It is an easy regulated dog running harness for small puppy and a large Mastiff.
Strong dog harness is handmade, reliably stitched and equipped with strong rings and buckles. It is made of reliable nylon, that is easy cleaned. Nylon does not stretch and will keep its durability and strength in any weather conditions.
Click on image and view a larger photo
Click on image and view a larger photo
Simple and easy design of this Mastiff harness is very comfortable and reliable in use. The form of straps and back plate repeats the form of dog body. If does not rub or interrupt dog active moves in walking, training and tracking. The straps are wide and easy regulated. Use buckles and adjust the harness to fit your dog perfectly!
Nylon dog running harness is very strong even for a large Neapolitan Mastiff. Thoigh, it is a comfortable dog harness for puppy walking and training as well. You may re-adjust the buckles while your doggy is growing. We make our dog harnesses maximum durable and reliabel to serve you for many years.
The benefits of this Dog Running Harness:

strong
certified quality
equipped with 3 rings for lead and weight pulling
strong back handle
regulated straps

Intended use of this Strong Dog Harness:

Neapolitan Mastiff
small and large dogs
dog walking
dog training
tracking

Sizes available:

Available colors:
Check how this Dog Running Harness looks on Neapolitan Mastiff
Pictures from Our Customers
Click on image and view a larger photo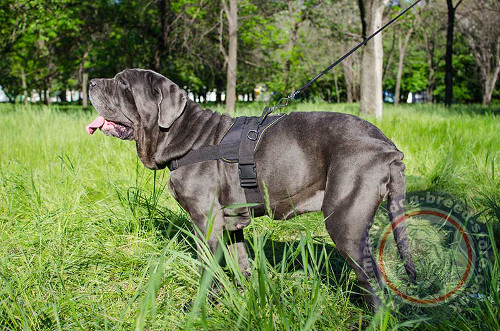 Strong Dog Harness for Neapolitan Mastiff
Click on image and view a larger photo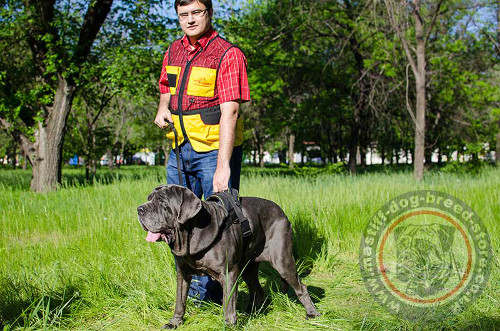 Neapolitan Mastiff Dog Running Harness - Comfort in Walks
Nylon dog running harness will serve you for a long time. This Mastiff harness is made of high qulaity nylon to make its look long-lasting and use reliable.
Nylon is an unpretentious material, dog-friendly and hypoallergenic. Enjoy walking your dog with comfort and control your strong Mastiff with this dog running harness with handle!