Mastiff Dog Harness Design for Sophisticated Style of Neapolitan Mastiff
Mastiff dog harness of the best design is produced for exacting customers.
If you wish to choose the best dog harness design for your dog - this harness is made especially for your needs! it is a royal design of Mastiff dog harness, that combines luxury style and superior quality.
Mastiff dog harness is handmade. The surface is made of genuine leather and padded with soft Nappa. Each stitch is accurately made by hands to make this harness look and serve perfectly.
Mastiff dog harness is durable for huge loadings of a powerful, active Mastiff. The royal look of this dog harness is made by vintage brass studs. Each stud is fixed with inner safe polished rivet. The best dog harness to make your dog feel perfect and look gorgeous!
Clicking on the image will open a larger one
Check how the Royal Mastiff Dog Harness Design looks on Neapolitan Mastiff
Pictures from Our Customers
Clicking on the image will open a larger one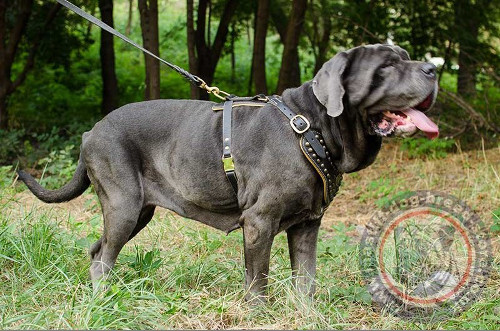 Neapolitan Mastiff Dog Harness Design
Clicking on the image will open a larger one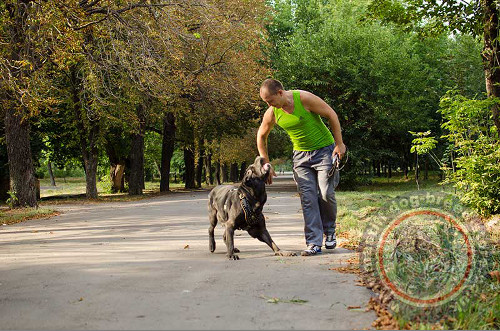 The Best Dog Harness for Neapolitan Mastiff
Mastiff Dog Harness Design:

Superior quality genuine leather and Nappa
Studded design of triangle font plate
Padded with soft nappa
Made by hands
Rustproof brass hardware
Regulated straps
Elegant and strong stitching

Intended use of this Mastiff Dog Harness:

Neapolitan Mastiff walking
Neapolitan Mastiff training
Neapolitan Mastiff temperament control
For medium and large dogs

Sizes available:

Available colors:
Mastiff dog harness will serve you for a long time. This model of Mastiff harness is designed based on the experience of dog trainers and canine experts. This is the best design fo leather dog harness for a strong and large dog breed like Neapolitan Mastiff. This handmade Mastiff dog harness is functional, comfortable and reliable.
Neapolitan Mastiff is one of the largest dog breeds. It has a powerful, muscular dog. In spite of its strength, Neapolitan Mastiff has a calm and peaceful temperament. Neapolitan Mastiff is intelligent and easy trained. Underline harmonious, elegant body of this strong dog with this Royal Dog Harness Design. The soft Nappa lining will protect its soft and short fur from rubbing.