Sport Dog Harness for Neapolitan Mastiff Dog Training
Powerful Neapolitan Mastiff has a strong, muscular body. In spite of its strength, Neapolitan Mastiff is not hyperactive. It requires calm daily walking. Neapolitan Mastiff is mentally harmonious and stable dog. Sometimes it may be lazy and enjoy laying at your feet or on the coach. But as any dog, it needs exercises and physical loading.
Keep your dog healthy and provide it with interesting and useful acivity. Try weight pulling dog sport to entertain your dog and exercise its strength, keep muscles healthy and physical form harmonious.
Our strong sport dog harness is especially designed for comfort in weight pulling dog sports. It is designed to distribute the loading evenly on a dog body. The front strap is soft padded to prevent rubbing. Use two side rings to attach weight tool (a wheel on strings or a barrow). If you have children, they will enjoy sledding with your powerful pet. And it will be a great joy for both you, kids and the dog. In addition, the dog will get a proper training for its healthy physical form.
The benefits of this Sport Dog Harness:

strong wide leather straps
soft padded
handmade
designed for even loading
3 cast rings for walking and pulling sport
strong fixation with reliable stitches and rivets

Intended use of this Sport Dog Harness:

Neapolitan Mastiff walking
Neapolitan Mastiff training
dog sport
sledding
weight pulling
tracking

Sizes available:

Available colors:
Check how this Sport Dog Harness looks on Neapolitan Mastiff
Pictures from Our Customers
Click on image and view a larger photo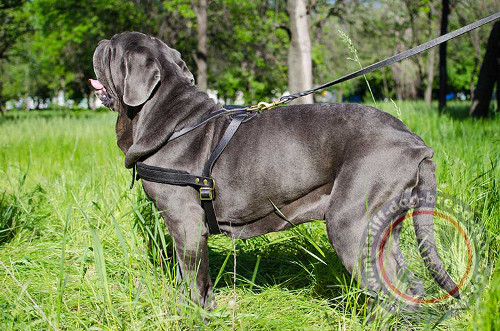 Strong Neapolitan Mastiff Sport Dog Harness
Click on image and view a larger photo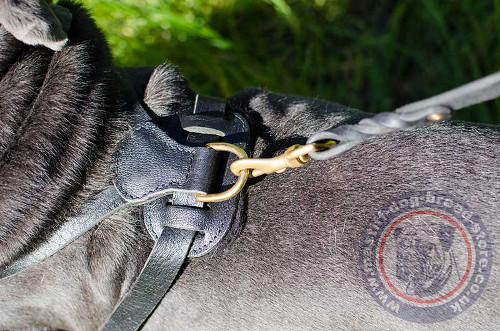 Neapolitan Mastiff Walking Dog Harness - with Cast Rings
Sport dog harness for weight pulling is designed for dog comfort in training, walking, tracking and sport. Genuine leather, handmade dog harness will serve you for a long time.