Dog Harness Spiked Design for Mastino Napoletano
Dog harness spiked design is an original, nice and comfortable dog wear for a large dog breed. It is a perfect dog harness for Mastino Napoletano. It is made of very strong, selected quality leather. All the details are reliably well-done and fixed together to make it a strong tool for walking and training of powerful, large dog breeds. Triangle-shaped chest plate is a perfect design for dog body form. The straps embrace dog chest and neck and are fixed at the back plate. The chest and back plates in their turn are soft padded to make a dog feel comfy and prevent rubbing in active harness use. Your dog will run, play, and feel perfectly! What a gorgeous look has a dog wearing this dog harness spiked design! Try now and underline the gorgeous look of your Mastino Napoletano! Silver spikes will perfectly match its blue fur!
Check how this Designer Dog Harness looks on Neapolitan Mastiff
Pictures from Our Customers
Click on image and view a larger photo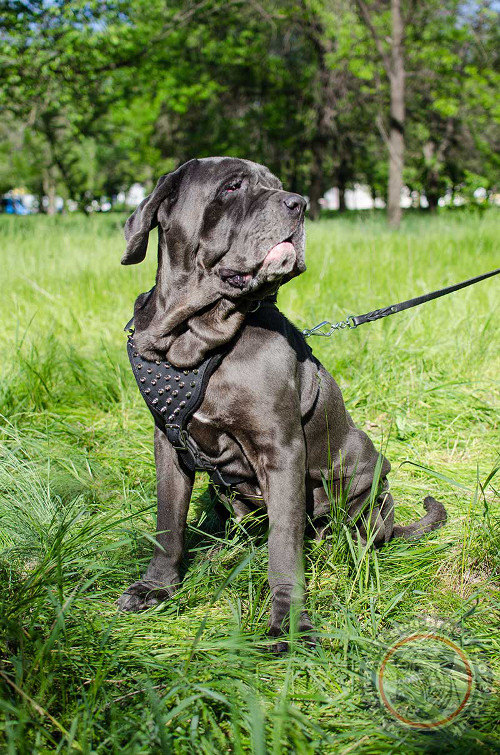 Designer Dog Harness Spiked Leather Style
Click on image and view a larger photo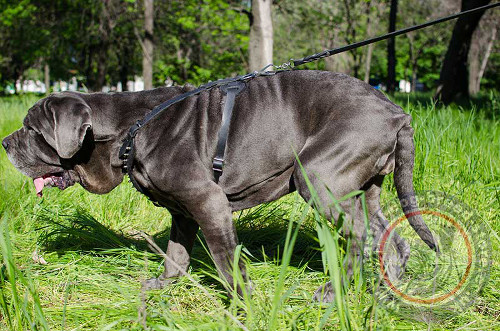 Comfortable and Awsome Style of Mastino Napoletano Walking Dog Harness
The benefits of this Dog Harness Spiked Design:

Designer original style
Comfortable form for a dog body
Soft padded front and back plate
Hand made
Rustproof metal details
Solid ring of D-shape for lead adjusting
Spiked

Intended use of this Dog Harness:

Mastino Napoletano walking
Mastino Napoletano training
Mastino Napoletano temperament and power control
For other medium and large dogs

Sizes available:

Available colors:
Walking dog harness spiked design is a real head-turner! Make your dog look brilliant and feel super comfortable at each walking! Gogeous look and pleasure of your dog is guaranteed.