Professional Dog Harness for Mastino Napoletano, High Vis Strap and Sign Patches for Service Dogs and Training, Tracking, Assistance
Wish something special, quality and reliable for your Mastino? This new dog harness will make dog activities easier, more comfortable and controlled.
How to choose a new dog harness that will fit huge Mastino and perform functions for dog sport, service, tracking, walking and assistance?
We propose a professional dog harness designed by experienced specialists! We try to supply a quality equipment that will be maximum efficient, comfortable and durable for long term use and for many purposes you may have with your Mastino Napoletano.
Control dog harness has a comfortable design, handle, cast rings for leash and weight pulling. Attach sign patches according to the service of your dog. They are easy adjusted with velcro straps.
High vis front strap makes it a perfect dog harness for any hour, day and night, in traffic and for tracking.
Click and enlarge the image of the professional dog harness
Read the important details about this Professional Dog Harness:

all-wether, strong and light, quality nylon
comfortable design
various sign patches options
reflective high vis front strap
control handle
welded D rings by the sides for weight pulling and leash
D-shaped solid ring at the handle to fix a dog lead

Usage of the Professional Dog Harness for Mastino:

mastiff size
mastiff puppies and big mastiff dogs
mastiff walking
mastiff training
mastiff service dogs
to control a strong dog reliably

Available sizes:

extra-extra-small
extra-small
small
medium
large

Available colors:
Check how this Professional Dog Harness looks on Mastino Napoletano
Pictures from Our Customers
Click and enlarge the image of the new dog harness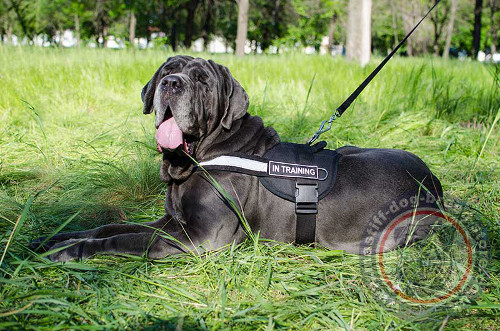 New Dog Harness on Italian Mastino
Click and enlarge the image of the control dog harness
Light Reflective Professional Dog Harness for Tracking, Walking and Service
Secure your pet in darkness and traffic with this reflective dog harness for mastiff!