Dog Collar with Metal Quick Release for Neapolitan Mastiff
Choose a strong and reliable tool for your big mastiff! Nylon dog collar is a great choice to control its power and temperament.
Neapolitan mastiff collar has a strong metal quick release buckle. It is comfortable to adjust and fix it on dog's neck. Use this nylon dog collar of simple and comfortable design to control your dog in walking and training.
Nylon mastiff collar size is regulated with a strong buckle.
You will easy and reliably adjust a dog lead to a cast metal ring.
Nylon dog collar is used in any weather and will bring you and your dog many positive moments daily!
Click to enlarge the photo of this dog collar with quick release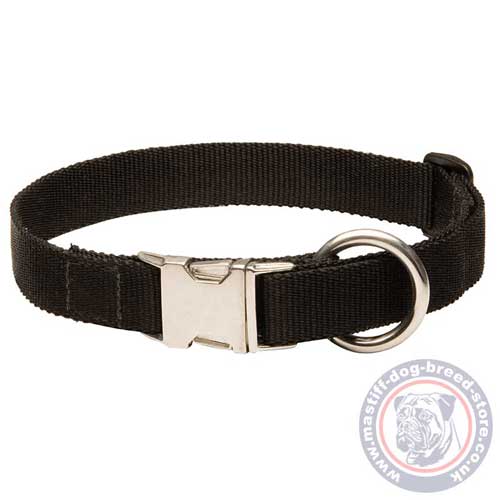 Adjustable Nylon Dog Collar with Metal Quick Release
Info of this Neapolitan Mastiff collar:

high quality nylon
double layer, reliably stitched
regulated size with a strong plastic buckle
quick release buckle
solid O-ring for dog leash
for any weather

Use this nylon dog collar for:

small, medium and large dog size
mastiff training
mastiff walking
at home/kennel

Sizes available:

1 in (25 mm) wide
16-26 in (40-68 cm) long
20-30 in (50-78 cm) long

Available colors:
Simply comfortable dog collar made of strong nylon is a perfect dog gear for daily use.
Strong, adjustable dog collar with metal quick release looks and fits Neapolitan Mastiff perfectly
Look at the photos from our customers
Click to enlarge the image of this mastiff collar on a dog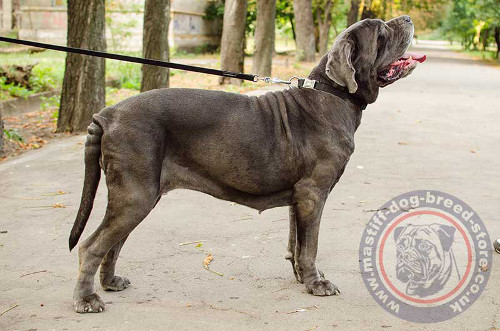 Adjustable Italian Mastiff Collar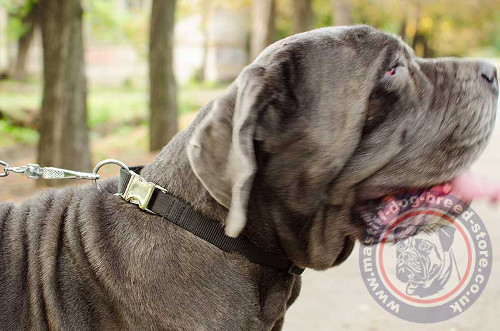 Strong Nylon Dog Collar for Control over a Big Italian Mastiff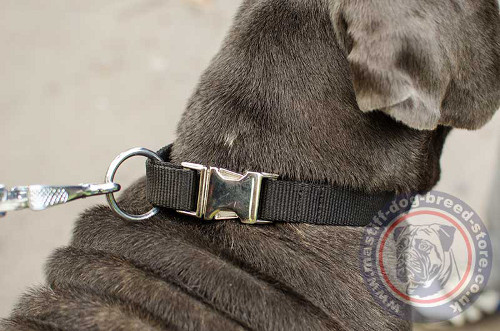 Mastiff Dog Collar with Metal Quick Release