High Vis Dog Harness for Mastiff Puppies and Large Dogs Advanced with Reflective Stitching
High vis dog harness is the advanced model of our bestseller dog walking harness. Mastiff harness high vis model is characterized with the same benefirts of quality, functionality and reliabilty, and advanced with reflecting stitching. Therefore this high vis dog harness for mastiff is perfect for use in darkness. High vis dog harness made of nylon may be used for comfortable dog walking, strong control over your dog, efficient dog service and training of K9 dogs.
High vis dog harness is lightweight and comfortable. It is easy to store, clean and dry. Nylon is unpretentious material, that may be used in any weather and conditions. Walk, train and work with your dog in any weather and any time. You will easy find and control it in darness for the light-reflecting stitching of the high vis dog harness.
Click and enlarge the image of the high vis dog harness
High Vis Dog Harness' important details:

quality nylon
unpretentious in storage and care
light weight and extreme strength
wide straps
regulated size by plastic buckles
solid, rust-resistant metal rings for pulling and lead adjusting
back handle to control a dog
reflective stitching
certified

Usage of the High Vis Dog Harness for Mastiff:

for puppies and large dogs
for any weather and day/night time
dog walking
dog training
service dogs K9
weight pulling
sledding

Available sizes:

extra-extra-small
extra-small
small
medium
large
extra large

Available colors:

black with white stitching
Never lose your pet in darkness and secure it at streets and roads with this high vis dog harness.
You will enjoy calm and active walks with your dog at day and night and feel safe that you will not lose it. High vis dog harness is a good help for passing-by drivers to notice your dog if it happens to appear close to or on the road.
You may also like:
Sport dog harness has the same characteristics and design as high vis dog harness, but without reflective stitch:▶▶▶
Click and enlarge the image of the sport dog harness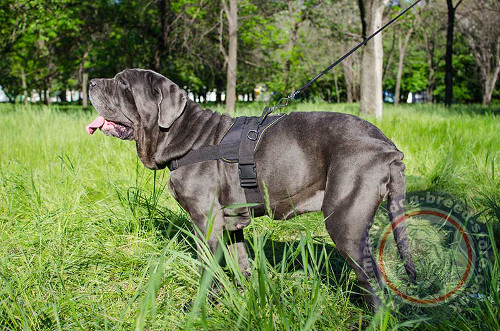 Strong Sport Dog Harness on Neapolitan Mastiff
You may also like the reflective dog harness with front high vis strap:▶▶▶
Click and enlarge the image of the reflective dog harness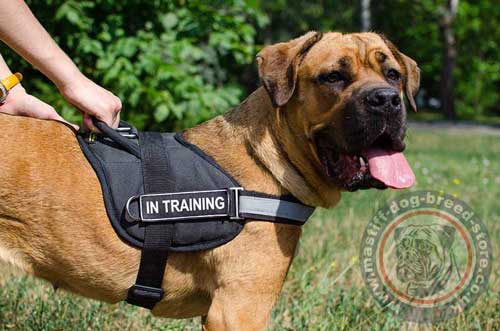 Reflective Dog Harness on Cane Corso Mastiff