Boerboel Collars UK Best Sellers: Large Dog Collar with Handle
Boerboel collars models are designed to be especially strong for your powerful South African Mastiffs!
2 ply nylon dog collar is reliably stitched, wide and reliable.
Strong round handle is comfortable to hold and very carefully adjusted to the collar.
There is a cast round ring at the handle for dog lead adjusting.
These best selling Boerboel collars are perfect for walking of large mastiff dogs, dog training and service of K9 dogs.
Click on the image to see the details of boerboel collars
Boerboel Collars information:

durable
waterproof
2 ply nylon of high quality
reliable stitching
easy to clean, dry and store
strong and comfortable round nylon handle
quickly and reliably adjusted with a quick release buckle
a buckle for regulation
cast rustproof O-ring on a handle for a dog lead
super strength for a large mastiff

What are these Boerboel Collars for?:

easy, calm, obedient dog walking of a powerful, large mastiff breeds
efficient mastiff training
vet visiting
control a dog in public
at home/kennel

Sizes available:

18 - 20 1/2 inches (45 - 52 cm)
20 - 24 inches (50 - 61 cm)
23 1/2 - 35 1/2 inches (60 - 90 cm)
Width - 40 mm (1 1/2 inch)

Available colors:
Check how this large dog collar looks on South African Boerboel Mastiff
Pictures from our Customers
Click on the image to see the details of these boerboel collars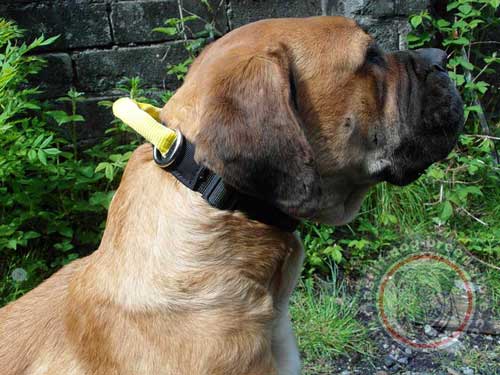 Choose Strong, Comfortable Boerboel Collars!
Choose this super strong, easy and reliable in use, easy washed and dried large dog collar for Boerboel mastiff and enjoy calm, pleasant dog walking and efficient mastiff training!