Dog Basket Muzzle for South African Boerboel Mastiff Size
Keep your dog safe and comfortable! This strong wire dog muzzle of large size will perfectly prevent dog biting and chewing. South African Boerboel mastiff breed is originally bred to prey on lions. It is an extremely strong dog of huge power and size. In daily life of a Boerboel breeder it may often occur a situation when he is required to have his dog muzzled. Of course it is a necessary means in public and at veterinarian. As a responsible and caring dog owner, you probably wish to choose the best dog muzzle for your pet.
We propose a strong and comfortable dog basket muzzle for South African Boerboel protection. Wire dog muzzle is made of smooth, rustproof metal basket. It provides perfect ventilation and a dog breathes free. The shape of dog basket muzzle allows dog pant, lick nose and even drink water muzzled.
Our designers care of comfort of your dog. A wire basket dog muzzle is padded with felt in the uppe area to prevent rubbing of dog skin where it touches dog snout the closest.
This wire dog muzzle is a perfect choice if you are just starting to use a dog muzzle. It is securely fixed on dog's head with reliable leather straps. Your dog will not be able to take it off. Train your dog to wear a muzzle step by step and you will have no problems with it.
Click on the mastiff muzzles to view them closer
Why we recommend this Dog Basket Muzzle?:

strong, rustproof, smooth wire
soft padded basket
reliable leather straps with buckles
comfortable shape for dog breath and panting
certified quality
prevents biting and chewing

This Mastiff Muzzle can be applied for:

South African Boerboel
big mastiff dogs
dog walking in public
dog socializing
visiting a veterinarian

Sizes available:

the size depends upon the dog breed, gender and age

Available colors:
Check how this Wire Dog Muzzle looks on South African Boerboel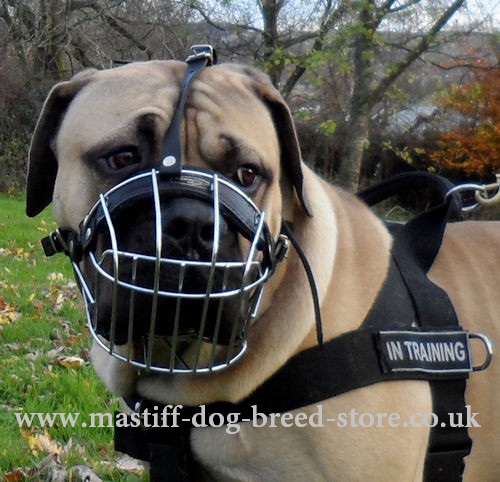 Wire Dog Basket Muzzle on Boerboel Mastiff
Measure dog snout sizes in inches:
Length: measured from the nose tip to the line of eyes
Circumference: measure around the dog snout 1 in below the line of eyes
Eye Line: measured from the line of eyes to the line right below the ears
Neck Circumference: measured around the neck behind the ears
Width: measure the width of dog snout in the widest point
Height: measure snout height. Dog mouth should be a little open.
Click here for the instructions how to measure a dog for a muzzle