Extra Strong Dog Lead for a Powerful Mastiff Like Boerboel
Extra strong dog lead for South African Boerboel is designed to provide reliable control over your big mastiff dog. Special features of this strong dog leash make it comfortable for a handler and a good help to control huge power of your giant dog.
First of all, it's incredible strength is guaranteed by inner cord. To make it safe and comfortable for your hands, we wrapped it with a soft natural leather and carefully stitched by hands. We use special armored thread, smooth and wax edges to make it serve you a good and very long service.
Soft handle will not rub your hand even if your dog suddenly pulls.
Round dog leash has a strogn brass snap link to adjust it to a collar/harness or to itself to make a loop (as you see at the image below).
Click on a cord dog leash image to view it closer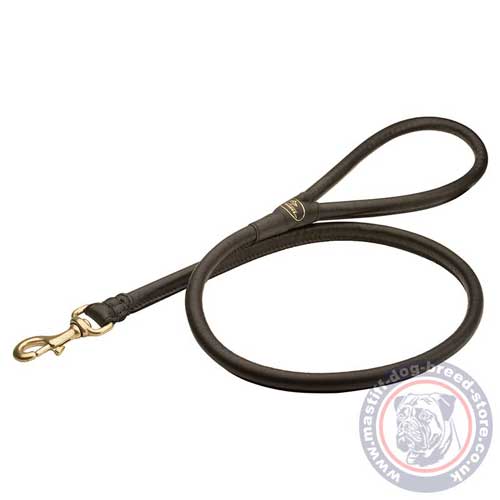 Extra Strong Dog Lead Soft for Touch and Strong in Use
Click on a round dog leash image to view it closer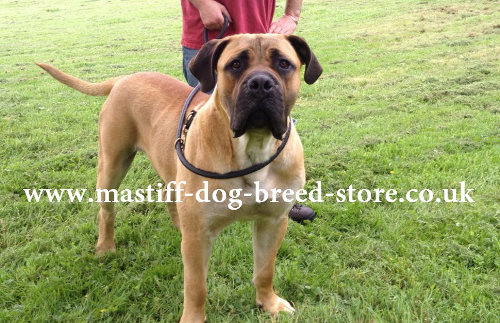 Round Dog Leash for Pleasant Dog Walking
Click on a big dog lead image to view it closer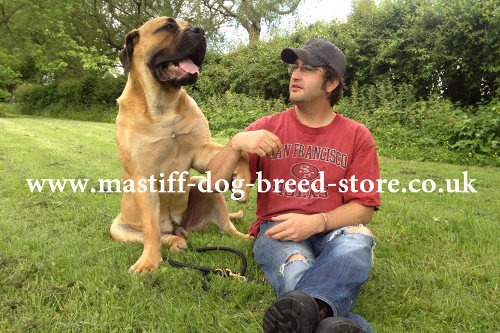 Extra Strong Dog Lead for Your Giant Four-Legged Friend
The features of this Extra Strong Dog Lead:

Strong solid cord inside
Wrapped with soft but durable natural leather
Reliably stitched joints
Smooth and waxed edges
Comfortable handle
Strong, easy and reliable brass snap link

How to use this Round Dog Leash:

South African Boerboel
Big mastiff dogs
For medium and large dogs
Dog training
Dog walking

Sizes available:

2 ft (60 cm) long
4 ft (120 cm) long
6 ft (180 cm) long
0.6 in (1.4 cm) wide

Available colors:
Important: genuine leather dog leash requires several conditions to serve you as long as possible:
Minimize its contacts with water and open sources of heat (do not leave it at heater and straight sunlight for a long time).
Process a leather surface with water repellent and leather conditioner to keep it flexible and soft for a long time.