Boerboel Collars for Strong Control Over a Big Mastiff and Awesome Style!
Boerboel collars have special design to help you control a huge power of your giant pet. We propose a strong dog collar of genuine leather, that is thick and soft. 3.5 mm thick leather makes this dog collar very reliable for South African Boerboel.
Check how this designer dog collar looks on South African Boerboel Mastiff
Pictures from our Customers
Click on the image to see the details of these Boerboel collars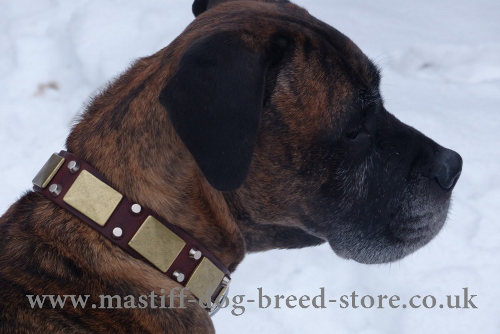 Vintage Dog Collar Design for Mastiff
Vintage brass plates and chromed pyramids add style to your dog and make this designer dog collar stunning. It will become your dog's favorite accessory!
The key features of these Boerboel Collars:

certified top quality
strong cast D-ring for leash attachment
easy-to-use and safe
extra strong and durable
riveted fittings
steel nickel plated hardware
gladiator style design
vintage brass plates
nickel plated metal studs

Intended use of these Boerboel Collars:

dog training
reliable and comfortable handling your dog
regular dog walking of your mastiff

Available sizes:

1 1/2 inch (40 mm) wide
0.9 lbs (410 g) weight

Available colors:
The features of size of Boerboel Collars with buckle:

Please be advised that:
For buckle collar when you specify neck size we will make collar fit on central hole.
There will be total of 5 holes and distance between each 2 holes is 1 inch (25 mm).
For example: your dogs neck size is 20 inches (50 cm). Collar will fit on central hole at 20 inches (50 cm).
There will be 2 smaller size holes - 18 inch (45 cm) and 19 inch (47.5 cm).
There will be 2 bigger size holes - 21 inch (52.5 cm) and 22 inch (55 cm).
There will also be tip of the collar after last hole about 2 inch long (5 cm).
Those are handcrafted collars and some sizes will differ a little (not in significant way).
2 ply leather collars and padded leather collars are 1 inch bigger to make sure that it will fit your dog.
Learn more about this Stylish Designer Mastiff Collar:
We guarantee, that the leather used for manufacturing of these Boerboel collars is very strong and durable. So you may be sure in relaible control over your Boerboel Mastiff. All the hardware details as well as decorations are rustproof, smooth and carefully fixed.
The comfort of your dog is our motto. We assure you, that these Boerboel collars respond to all requirements, they are safe for dog's health and very comfortable. Collar edges are hand polished not to rub or cut into the dog's skin.
Magnetic style of this designer dog collar draws everyone's attention. Massive vintage plates and studs make your pet look gorgeous.