Extra Large Tibetian Mastiff Muzzle fog Big Dog
Revolutionary design wire dog muzzle for big dog like Tibetian Mastiff combines the best characteristics for safety and comfort.
Extra large Tibetian Mastiff muzzle basket is designed in many sizes and shapes. Measure the snout of your Tibetian Mastiff according to the insctruction, and you will get a perfectly fit wire dog muzzle.
Click on the basket muzzle for Tibetian Mastiff to view it closer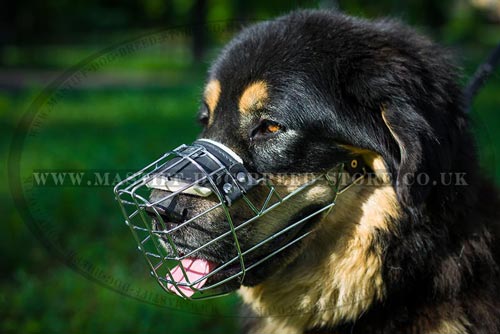 Strong Wire Dog Muzzle for Tibetian Mastiff
Click on the basket muzzle for Tibetian Mastiff to view it closer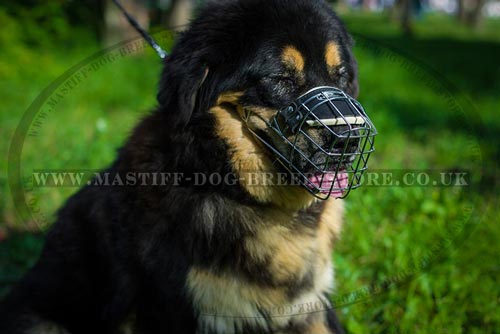 Padded Basket Muzzle for Big Dog
The benefit of this wire dog muzzle is that its shape and space allows a dog to pant and drink water muzzled. Sometimes it is important in trainign to be able to give treats to your dog. With this basket dog muzzle your Mastiff will get treats throught the cage and chew it muzzled. At the same time it is a secure protection from biting.
Revolutionary design of this basket muzzle for big dog is a soft padding in the upper nose part that prevents rubbing.
Basket dog muzzle is securely fastened by wide, thick, genuine leather belts with a buckle. You may choose a quick release option instead of a classic clasp.
Though Tibetian Mastiff temper is calm and generally these dogs do not show aggression unless for protection, sometimes it will be required to wear a muzzle. You will surely need it for grooming or vet visiting. Try a comfortable and secure basket dog muzzle for your big dog.
Click on the basket muzzle for Tibetian Mastiff to view it closer
Wire Dog Muzzle for Dog Panting and Drinking Muzzled
Extra Large Tibetian Mastiff Muzzle for Big Dog
Why this Tibetian Mastiff Muzzle is recommended for a dog?:

designed in many sizes and shapes to fit a definite dog perfectly
strong and safe wire cage
perfect ventilation
allows a dog to pant and drink water muzzled
rustproof
padded with thick felt to prevent rubbing
securely fixed with leather belts and a clasp (classic or quick release)
secure prevention of biting

This Basket Dog Muzzle can be applied for:

large Tibetian Mastiff other big dog breeds
there are sizes for medium dog breeds as well
dog walking
dog socializing
vet visiting
dog grooming

Sizes available:

over 20 sizes available (the size depends upon the dog breed, gender and age)

Available colors:
Measure a snout of your Tibetian Mastiff in inches:
Length: measured from the nose tip to the line of eyes
Circumference: measure around the dog snout 1 in below the line of eyes
Eye Line: measured from the line of eyes to the line right below the ears
Neck Circumference: measured around the neck behind the ears
Width: measure the width of dog snout in the widest point
Height: measure snout height. Dog mouth should be a little open
Click here for the instructions how to measure a dog for a muzzle