Basket Dog Muzzle with Rubber Coating and Soft Padding for Tibetian Mastiff Winter Walking
Basket dog muzzle with rubberized wire is a special model of wire dog muzzles. Rubber coating prevents sticking of dog skin, tongue and muzzle burning in frosty weather. It is a perfect muzzle for dog walking in winter.
Rubberized basket muzzle for Tibetian Mastiff will be a perfect tool for dog safety in summer as well. It provides maximum comfort of dog snout. Soft upper nose lining prevents hurting and rubbing. Wire cage dog muzzle provides perfect ventilation. A dog breathes and pants free. In addition, a dog is able to drink and take treats muzzled. It is very important for dog training.
This basket dog muzzle design is produced according to the definite dog breed special snout shape and size. Fill in all the sizes of dog snout required and we will choose the most comfortable, the best dog muzzle size for your dog.
Click on the basket dog muzzle image to enlarge it
Reasons to choose this Tibetian Mastiff Muzzle:

perfect snout form design for a definite dog breed and sizes
perfect air flow
advanced rubber covering for comfort in winter
prevents dog snout freezing
perfect protection
allows a dog to bark, drink and pant muzzled
100% safe, dog friendly materials

Rubberized Basket Dog Muzzle is applied for:

Tibetian Mastiff
mastiff dog breeds, large dogs
dog walking and training in any season

Sizes available:

rich choice of sizes for various dog snout shapes and sizes. Please, fill in the sizes of dog snout while ordering.

Available colors:
Check how Rubber Coated Basket Dog Muzzle looks on Tibetian Mastiff
Click Tibetan Mastiff pictures to enlarge images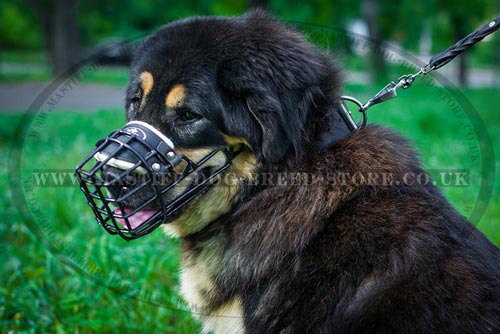 Basket Dog Muzzle that Allows Dog Drinking Muzzled
Click Tibetan Mastiff pictures to enlarge images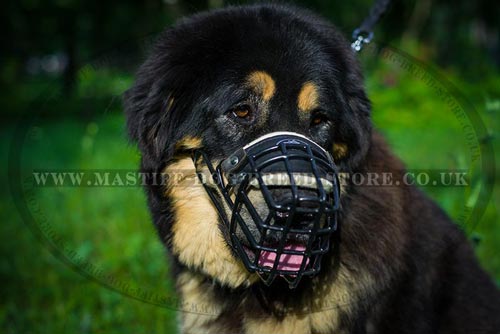 Rubber-Coated Wire Dog Muzzle with Super Ventilation
Click Tibetan Mastiff pictures to enlarge images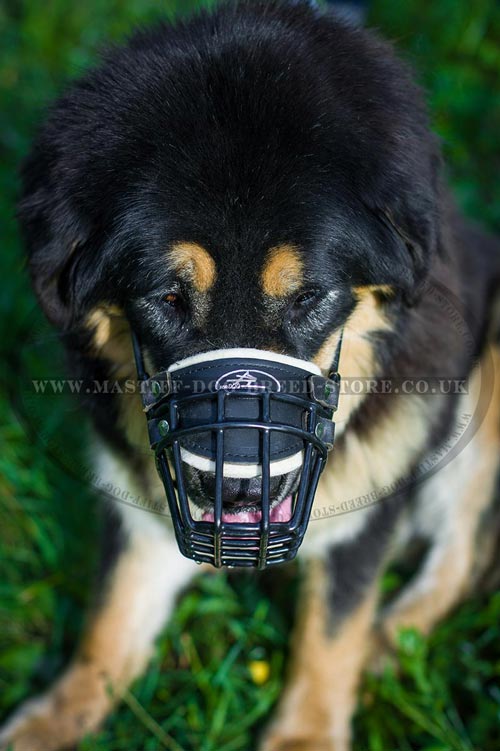 Padded Basket Muzzle for Dogs Comfort
Measure dog snout sizes in inches:
Length: measured from the nose tip to the line of eyes
Circumference: measure around the dog snout 1 in below the line of eyes
Eye Line: measured from the line of eyes to the line right below the ears
Neck Circumference: measured around the neck behind the ears
Width: measure the width of dog snout in the widest point
Height: measure snout height. Dog mouth should be a little open
Click here for the instructions how to measure a dog for a muzzle