Tibetian Mastiff Weight Pulling Dog Harness for Keeping Your Dog Fit and Controlled
Strong leather dog harness is a perfect choice for a giant dog like Tibetian mastiff. It will make your dog feel comfortable in walking and training still being under your control.
Dog harness does not pull on dog's neck. It is considered a more comfortable and safe tool for dog walking and training. Leather dog harness is made of thick, well done natural leather. Its edges are round smoothened to prevent wearing our and make it look nice for as long time as possible. Leather is well done and impregnated. But special care as for any item of natural leather is required to make it serve you longer. Proper care with leather conditioners prevents cracking and callosity.
This leather dog harness has a special design for weight pulling exercises and sport.
Tibetian mastiff as well as other mastiff dog breeds has a giant muscular body. The muscles of your dog need training to keep fit. Weight pulling dog harness is a perfect tool to train your dog and entertain yourself! It may be used for sledding in snow. Your Tibetian Mastiff probably has enough power to pull you on sled. It is a great way to train dog muscles. Or you may use a weight pulling device (for example, a wheel on straps) and attach it to the side D rings. They are very strong, solid welded and made of rustproof brass. The strap that goes along dog's chest is padded with soft felt to protect dog from rubbing while pulling.
This strong leather dog harness is also used for daily Tibetian Mastiff walking. There is a D ring for lead adjusting at the back.
View a larger image by clicking on the pictures
Key characteristics of the Tibetian Mastiff Weight Pulling Dog Harness:

Comfortable design for dog body form
Does not tighten dog's neck and chest when dog pulls
Made of thick leather
Well done and impregnated
Smooth polished edges
Full grain
Handmade
Cast D rings for pulling by the sides
D ring on the beck for dog walking
Reliably riveted, stitched
Soft padded

This Strong Leather Dog Harness is used for:

Tibetian Mastiff weight pulling
Tibetian Mastiff walking
Tracking

Sizes available:

Available colors:
Train the strength and physical form of your dog to keep it healthy and cheerful. Our strong leather dog harness for Tibetian Mastiff weight pulling sport will help you!
Check how this Strong Leather Dog Harness for Weight Pulling looks on Tibetian Mastiff
Pictures from our Customers
Click on the pictures to see bigger image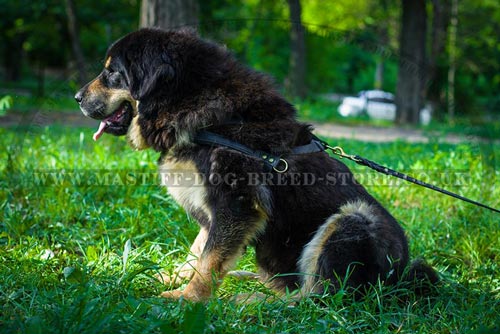 Train Your Giant Dog with a Premium Quality Leather Dog Harness!
Click on the pictures to see bigger image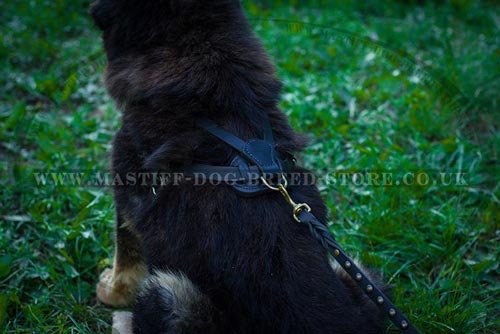 Large Dog Harness for Tibetian Mastiff Exercises and Walking