Tibetian Mastiff Dog Padded Harness - The Best Choice of Elegant and Reliable Big Dog Harness!
This Tibetian Mastiff dog harness is our bestseller!
Y-shaped chest plate is carefully designed to embrace dog chest with comfort. It is soft padded with thick felt and securely stitched. There is an elegant brass buckle that connects all three straps: belly, and shoulder belts.
The belts are adjusted and regulated by classic buckles. All the hardware is rustproof. We use only premium quality materials for reliable control over your big Tibetian Mastiff dog.
This Tibetian Mastiff dog padded harness is very comfortable for dog walking.
You may choose this Tibetian Mastiff dog harness with handle for better control and comfort in training and walking.
This Tibetian Mastiff big dog harness is made of thick genuine leather. It will serve you for a long time.
We hope this Tibetian Mastiff dog harness will become your favorite dog walking accessory.
View a larger image by clicking on the pictures
The benefits of this Tibetian Mastiff Dog Harness:

top quality thick and soft leather
brass buckles and ring
Y-shaped chest plate with soft felt lining
regulated straps
side quick release buckle
handmade
reliably stitched and riveted
optional - back handle for better control

Intended use of this Tibetian Mastiff Big Dog Harness:

reliable control over a big Tibetian Mastiff dog
attack/agitation training
control mastiff temperament

Available sizes:

medium size
large size
extra large size

Available colors:
Tibetian Mastiff is one the largest and the strongest mastiff dog breeds. You need a really quality gear to control and handle this giant dog. Though Tibetian Mastiff temperament is calm and friendly, there are situations when your dog should be controlled. This big dog harness is intended especially for the needs of a Tibetian Mastiff dog owner. Our big dog leather harness is super comfortable and reliable! Dog trainers and owners use it for dog training in attack, agitation and for reliable control over a strong dog in daily walking. Elegant style of this Tibetian mastiff big dog harness will make your dog look awesome and very smart!
Check how this Tibetian Mastiff Big Dog Harness looks on a dog
Pictures from our Customers
View larger Tibetian Mastiff pictures by clicking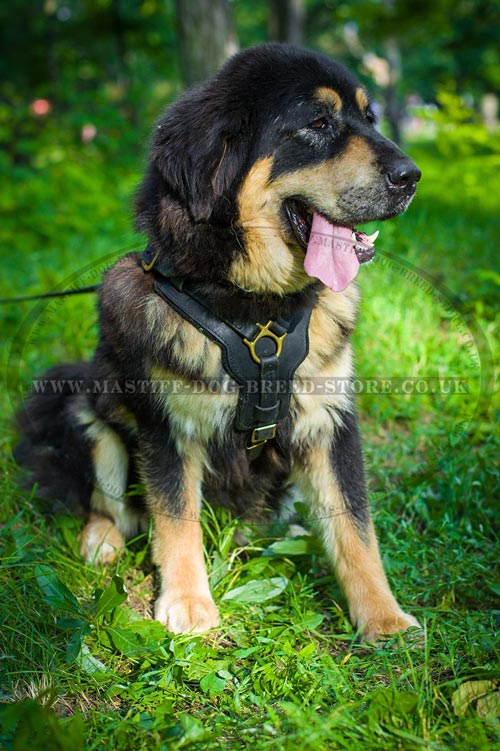 Smart-Looking and Comfortable Y-Shaped Harness for Tibetian Mastiff Dog
View larger Tibetian Mastiff pictures by clicking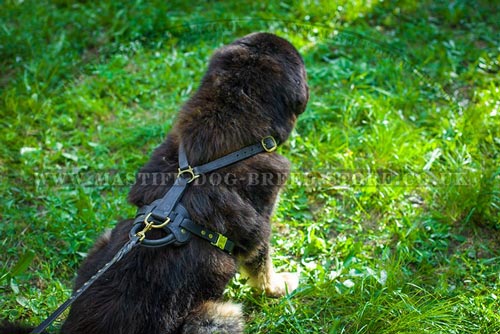 Tibetian Mastiff Dog Padded Harness with Back and Front Soft Felt Lining
View larger Tibetian Mastiff pictures by clicking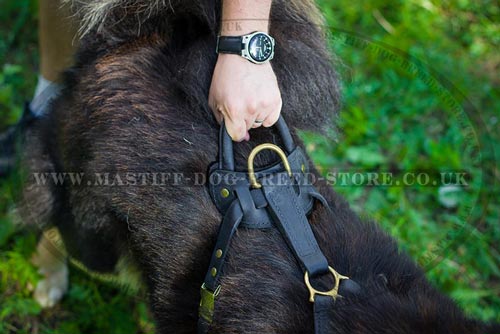 Choose this Tibetian Mastiff Dog Harness with Handle Option