Luxury Dog Harness UK Best Quality for Royal Style of Your Tibetian Mastiff
Your gorgeous rare Tibetian Mastiff deserves the best! Get a luxury leather dog harness to underline the gorgeous look and high level of your pure bred rare dog. Tibetian Mastiff is quite a rare dog breed. if you are a lucky owner of this gorgeous dog breed, underline its royal look with the best dog harness design!
Tibetian Mastiff has a thick, long fur. To protect it from rubbing and cutting we made this luxury dog harness padded with super soft nappa lining. It is a natural color light beige calf leather.
This elegant royal dog harness has strong stitches. They are made by strong, thick white thread to make it look even more elegant. Each detail of this luxury dog harness is carefully well done and handmade.
The whole design of this luxury dog harness is made to provide your dog with maximum comfort. The straps are regulated. The chest plate is made in V-shaped form to repeat the lines of dog chest. The back and front plates are nappa padded.
Turn your attention to the gorgeous studded design on the front plate.
View a larger image by clicking on the pictures
Luxury Leather Dog Harness for Tibetian Mastiff
Calf Leather Padded Dog Harness for Dog Style and Comfort
The benefits of this Luxury Leather Dog Harness:

gorgeous style
soft calf leather padded
genuine leather
brass studded
elegant stitching
quick-release side buckle
regulated size

Intended use of this Royal Dog Harness:

royal style of your gorgeous dog
dog comfort in daily walking and obedience training
reliable control a dog of medium and large size
for Tibetian Mastiff and other mastiff dog breeds
Tibetian Mastiff running
Tibetian Mastiff training

Available sizes:

medium to extra large size

Available colors:
Choose luxury leather dog harness to underline the rare breed of your Tibetian Mastiff!
Check how the best Luxury Dog Harness UK looks on Tibetian Mastiff dog
Pictures from our Customers
Click to view larger Tibetian Mastiff pictures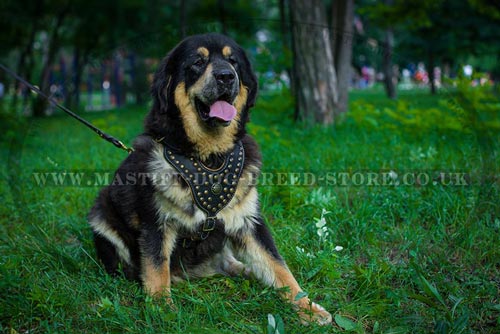 Gorgeous Dog Harness Design on Tibetian Mastiff
Click to view larger Tibetian Mastiff pictures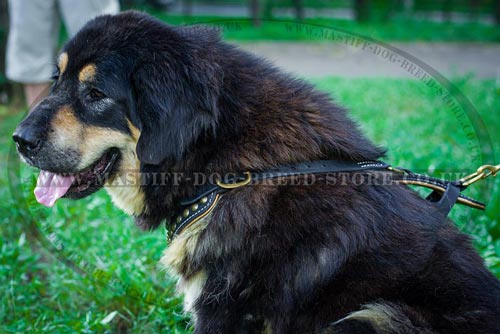 Padded Leather Dog Harness for the Best Dog Comfort
Click to view larger Tibetian Mastiff pictures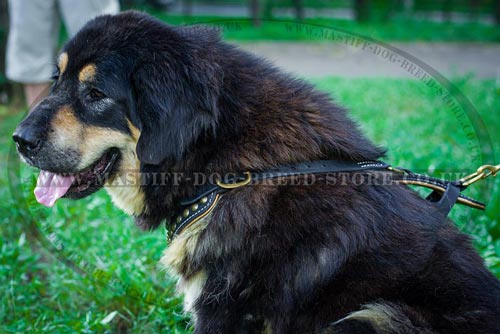 Make Your Dog Feel Comfortable anf Look Luxury!