Tibetian Mastiff Training Dog Harness with Padded Triangle Chest
Tibetian Mastiff training dog harness is intended for maximum comfort and reliability. That's why it is made of quality nylon. Dog nylon harness is very strong and reliable. It does not require special care and storage, easy to clean and dry. Tibetian Mastiff dog nylon harness may be used for dog walking and exercises in any weather.
Strong dog nylon harness will be a great help in control over your large Tibetian Mastiff dog. Wide nylon straps and soft padded plate are reliably stitched. Your dog will not feel any discomfort but you will manage its temperament safely and reliably. There are D rings by the sides and at the back. You may use it for lead or weight pulling tools adjusting. Back handle is very comfortable to control your dog by your side.
Click and enlarge the image of the mastiff dog harness
Perfect Design of a Strong Harness for Tibetian Mastiff Breed
Comfortable, Regulated Harness for Each Tibetian Mastiff Size
Dog Nylon Harness' important details:

handmade
certified, safe and durable materials
professionally designed
has light weight
each size is regulated to the definite extent
equipped with strong handle for reliable control
has 3 D rings: 2 side for pulling and 1 back for dog leash
soft chest plate

Usage of the Tibetian Mastiff Training Dog Harness with handle:

dog control
dog walking
dog training
weight pulling dog sport
tracking
service dogs

Available sizes:

extra-small to extra large

Available colors:
Check how this Tibetian Mastiff Dog Nylon Harness looks on a dog
Pictures from Our Customers
Click and enlarge the Tibetian Mastiff images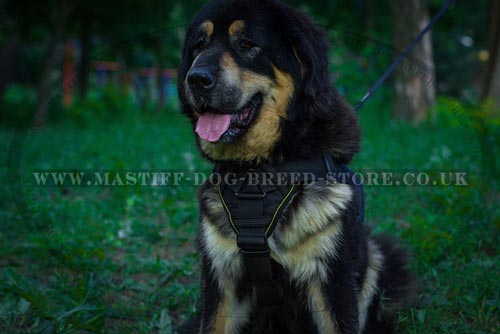 Tibetian Mastiff Dog Nylon Harness with Soft Padded Triangle Chest Plate
Click and enlarge the Tibetian Mastiff images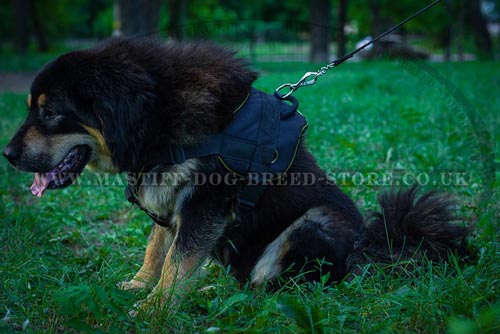 Strong Dog Harness for Tibetian Mastiff Controlled Training and Walking
Click and enlarge the Tibetian Mastiff images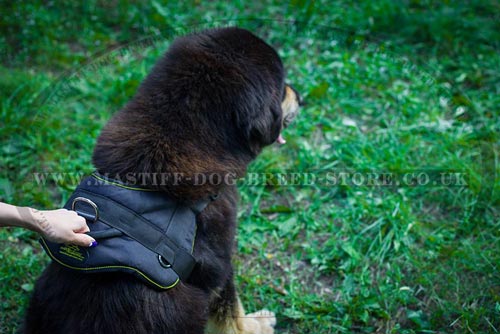 Tibetian Mastiff Dog Harness with Handle
Find more nylon dog harnesses here