Tibetian Mastiff Collar with Luxury Brass Spiked Design, Thick and Strong Natural Leather
Tibetian Mastiff collar is a very comfortable, strong and stylish dog accessory for your furbaby!
We produce dog collars since 1995. Our specialists are experienced craftsmen. They produce top quality dog collars with attention to each single detail.
All our leather dog collars are handmade. Tibetian Mastiff collars are produced of thick, full grain leather. They are 3.5 mm thick. Be sure: your dog is under reliable control.
Each dog owner wishes to have a dog collar, that combines safety and durability and at the same time makes their pet nice-looking. That's why this soft and strong leather dog collar is embellished with gorgeous brass spikes.
1.5 in wide and thick leather dog collar is comfortable for dog walking of large Tibetian Mastiff dogs.
The main features of these Tibetian Mastiff Collars:

hand made by experienced craftsmen
embellished with 2-row brass spikes
natural, well done and oiled leather with smooth edges
rustproof fittings
reliably riveted
securely fixed
classic buckle
regulated size
solid ring for a dog lead
square ring for dog collar tip fixing

What are these Tibetian Mastiff Collars for?:

intended for medium and big dogs
perfect dog collar for Tibetian Mastiff dog walking
handling of your dog in walking, training, in public places etc.
elegant style of your four-legged friend

Sizes:

1 1/2 inch (40 mm) wide
from 0.56 to 1 lbs weight, up to the size

Available colors:
Choose a proper collar for your Tibetian Mastiff size:

Turn your attention:
We make dog collars fit the neck size specified at the central hole.
There are 5 holes and distance between each 2 holes is 1 inch (25 mm). It is made for easy adjustment if your dog is growing or gaining/losing weight.
For example: your dogs neck size is 20 inches (50 cm). Collar will fit on central hole at 20 inches (50 cm).
There will be 2 smaller size holes - 18 inch (45 cm) and 19 inch (47.5 cm).
There will be 2 bigger size holes - 21 inch (52.5 cm) and 22 inch (55 cm).
There will also be tip of the collar after last hole about 2 inch long (5 cm).
Those are handcrafted collars and some sizes will differ a little (not in significant way).
Please, keep to the rules of leather items storage to make them serve you for a long term and to enjoy the quality, nice look and functionality.
Click on the Tibetian Mastiff images to enlarge them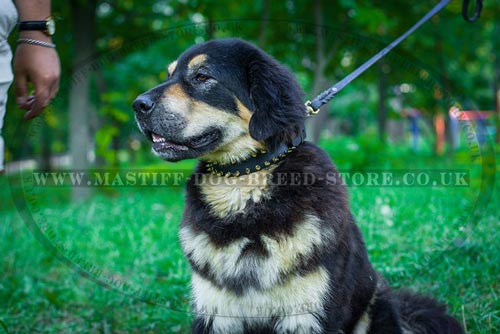 Brass Spiked Dog Collar for Tibetian Mastiff
Click on the Tibetian Mastiff images to enlarge them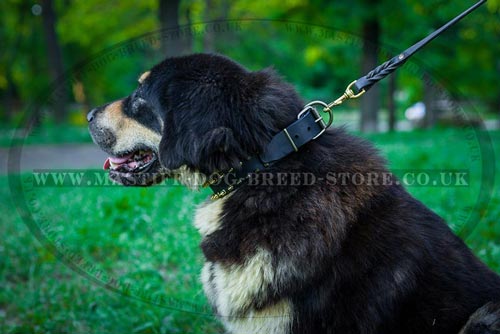 Comfortable Walking Dog Collar with Buckle
Click on the Tibetian Mastiff images to enlarge them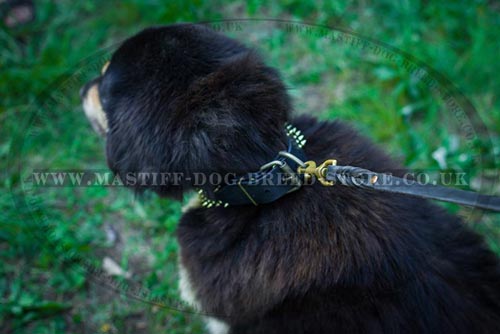 Tibetian Mastiff Collar with Strong Solid D Ring