Designer Dog Harness with Spikes for Tibetian Mastiff Dog
Tibetian Mastiff is a rare, huge and powerful dog breed. If you are a lucky owner of this gorgeous breed underline its gorgeous look. Tibetian Mastiff size and power requires premium quality mastiff supplies. We produce top quality, certified dog accessories and specialize in products for big dogs like mastiff breeds. Our dog harnesses are made of thick, full grain, natural leather only. It is a reliable and comfortable padded leather dog harness for control over your Tibetian Mastiff dog.
In addition to strength, reliability and comfort, this designer dog harness for Tibetian Mastiff is embellished with sparkling metal spikes. Spiked design adds special charm to your elegant dog.
This designer dog harness has soft lining in the v shaped chest and on the back plate. It provides super comfort for your dog, safety for dog fur and prevention of rubbing.
Click and enlarge Tibetian Mastiff pictures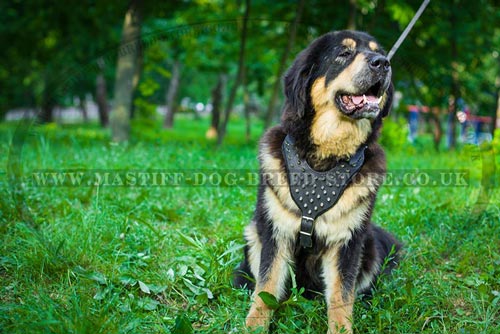 Spiked V Neck Dog Harness for Tibetian Mastiff Dog Walking
Tibetian Mastiff spiked dog harness has v neck design to fit dog body maximum comfortably. It provides comfort in dog walking and training.
Click and enlarge Tibetian Mastiff pictures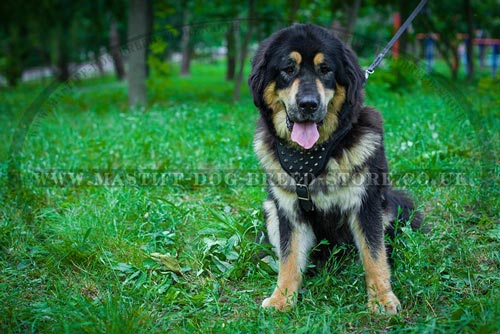 Padded Leather Dog Harness for Comfortable Control over Your Tibetian Mastiff
The spikes are reliably polished, hand set and riveted. All our dog harnesses are hand made. It makes them super durable Tibetian Mastiff supplies.
Click and enlarge Tibetian Mastiff pictures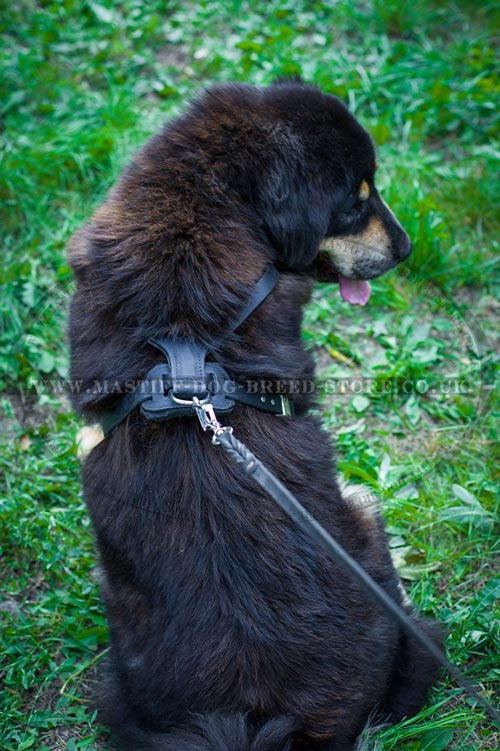 Handmade Dog Harness with Strong, Reliable Stitching
Adjust the straps with the help of buckles to fix this designer dog harness up to the individual size of your dog. There are additional holes to regulate the dog harness size in a definite sizes span. The sizes are described at the table below.
View a larger photo of this designer dog harness by clicking on the image
The key info of this Spiked Dog Harness:

V-shaped chest plate
soft felt lining
smooth polished steel spikes
rustproof chrome-plated fittings
quick-release side buckle
hand made
back solid D-ring for a dog lead

What is this Designer Dog Harness for:

large Tibetian Mastiff
medium and large dog breeds
mastiff walking in style and with comfort
control over a strong mastiff dog in walking

Available sizes:

medium to extra large size

Available colors:

black
brown
tan (natural leather color)