Tibetian Mastiff Collar for Big Dogs with 4 Rows of Spikes and Pyramids
Tibetian Mastiff collar of 2" width is a very strong device for a giant dog.
Tibetian Mastiff is a powerful huge dog. Take care of its comfort and reliable control over your big Tibetian Mastiff. Extra wide leather dog collar is a great tool for daily dog walking and gorgeous style of your mastiff.
Extra wide dog collar for Tibetian Mastiff is thick and made of full grain genuine leather. All the details are carefully well-done and handmade. Spikes and pyramids are safely polished. The embellishment will underline luxury look of a rare Tibetian Mastiff dog breed.
Tibetian Mastiff collar is reliably fixed and adjusted with a sturdy buckle. There is a cast D ring for a dog lead to walk and control your dog. You may choose a matching lead with this collar for a better price. Choose the option for your order.
Click on the pictures to enlarge these extra wide dog collars
Info of these Tibetian Mastiff Collars:

2 in wide
super strong, natural leather
0.1 in thick
smooth edges
gorgeous design with spikes and pyramids
strong buckle and ring
steel fittings with rustproof chrome-plating

Intended use of these Extra Wide Dog Collars:

big dogs
strong dogs
Tibetian Mastiff dog breed

Available sizes:

2" (50 mm) wide
sizes from 16 to 40 in sizes available

Available colors:
Check how these Extra Wide Dog Collars look on Tibetian Mastiff dog
Pictures from our Customers
View larger Tibetian Mastiff pictures by clicking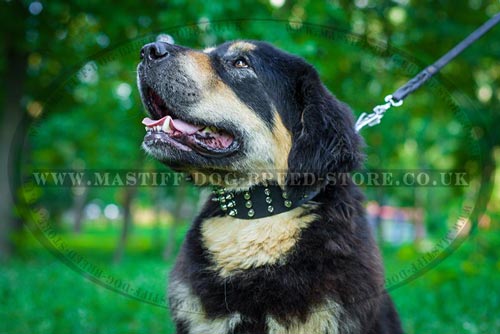 Tibetian Mastiff Collar with Extra Width for Big Dogs
View larger Tibetian Mastiff pictures by clicking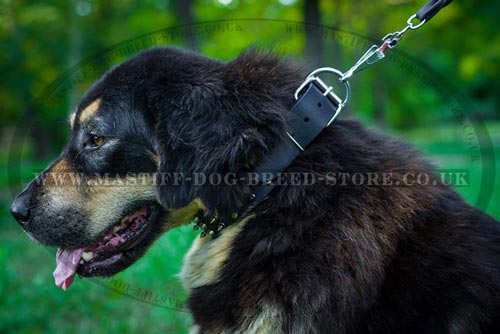 Extra Wide Dog Collar with Strong, Solid D Shaped Ring
How to define a Mastiff dog collar size:

Please, be advised, that:
Choose neck size from the options at the top and we will make a dog collar fitting on a central hole (С at the scheme).
Each dog collar with buckle has 5 holes on the distance of 1 inch (25 mm) between each two holes.
Example: if a dog neck size is 20 inches (50 cm), a collar will have size 20 in (50 cm) on the central hole.
There will be 2 smaller size holes - 18 inch (45 cm) and 19 inch (47.5 cm).
There will be 2 bigger size holes - 21 inch (52.5 cm) and 22 inch (55 cm).
There will also be tip of the collar after last hole about 2 inch long (5 cm).
These dog collars are handcrafted and some sizes will differ a little (not in significant way). But you will always have the chance to adjust it maximum fit for your dog.