Tibetian Mastiff Collar with Spikes and Studs and Perfect Width for Big Dogs
Strong leather dog collar is an essential dog accessory for big Tibetian Mastiff. Choose this daily tool to be strong, quality and stylish at the same time. Our specialists care of all these points. Our strong leather dog collar for Tibetian Mastiff is made of thick leather. You will see its premium quality and feel its soft touch.
Wide leather dog collar is soft, comfortable and strong for Tibetian Mastiff breed and other big dogs.
Strong leather dog collar is regulated and reliably fixed with a strong steel buckle.
Reliable control over your dog is guaranteed by a solid steel D ring.
All the fittings and embellishment is rustproof.
The key features of the Tibetian Mastiff Collar:

strong and soft, quality leather
extra wide
unique studded-spiked design
hand set chrome-plated spikes and brass semi-spheres, reliably riveted
strong steel D-ring for a dog lead
dog safe materials
strong, durable and soft
rustproof chromium plated hardware

Intended use of the Strong Leather Dog Collar:

big dogs
Tibetian Mastiff breed
dog walking of medium and large, strong dogs

Available sizes:

2.4 inch (60 mm) wide
1.14 lbs (520 gr) weight

Available colors:
Click on the Tibetian Mastiff pictures to open bigger ones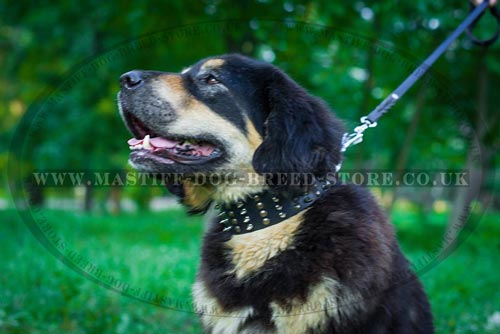 Extremely Wide and Strong Dog Collar for Tibetian Mastiff
Click on the Tibetian Mastiff pictures to open bigger ones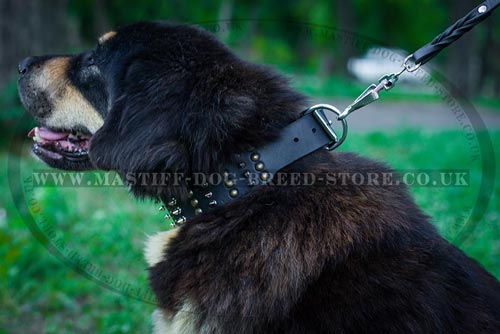 Wide Leather Dog Collar with Strong Buckle and Ring for Big Dogs
The size of this Tibetian Mastiff collar is measured the following way:

Please, be advised, that:
Choose neck size from the options at the top and we will make a dog collar fitting on a central hole (С at the scheme).
Each dog collar with buckle has 5 holes on the distance of 1 inch (25 mm) between each two holes.
Example: if a dog neck size is 20 inches (50 cm), a collar will have size 20 in (50 cm) on the central hole.
There will be 2 smaller size holes - 18 inch (45 cm) and 19 inch (47.5 cm).
There will be 2 bigger size holes - 21 inch (52.5 cm) and 22 inch (55 cm).
There will also be tip of the collar after last hole about 2 inch long (5 cm).
These dog collars are handcrafted and some sizes will differ a little (not in significant way). But you will always have the chance to adjust it maximum fit for your dog.