Tibetian Mastiff Jacket for Dog Health Protection in Rainy and Frosty Weather
Walk your dog with comfort. This waterproof Tibetian Mastiff jacket is a quality tool, designed especially to protect your dog from wet and cold. Dog walking will be comfortable and safe for dog health. Do not cancel dog walking because of a bad weather. There is no bad weather for your dog if he has a warm dog coat with waterproof surface on!
New waterproof Tibetian Mastiff jacket is made of dense but light nylon. It is breathable and thermostable. Special design of mastiff coat with special layers keeps stable dog body temperature even in frost.
Click and enlarge the image of this mastiff jacket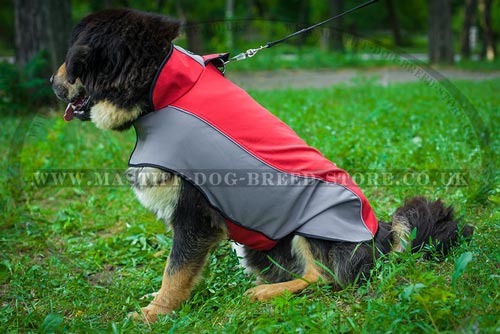 Warm and Rustproof, Nylon Jacket for Tibetian Mastiff Comfort
Warm mastiff jacket will make dog feel comfortable and move free. Special design repeats dog body shape and does not restrict moves of your active four-legged friend.
Choose quality Tibetian Mastiff wear produced by professionals.
Click and enlarge the image of this mastiff jacket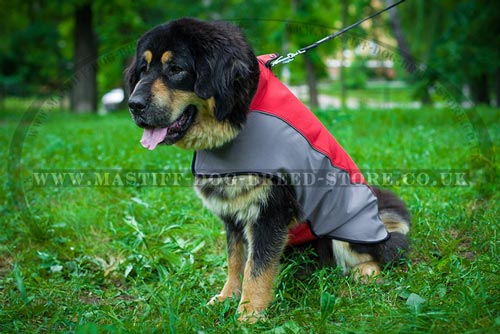 Nice Tibetian Mastiff Wear for Dog Care in Cold and Rain
This warm Tibetian Mastiff vest is easy fixed at the dog belly and neck. Easy and strong, wide velcro fasteners securely fix it on a dog.
Warm mastiff jacket for Tibetian Mastiff is produced in small and very large sizes. You may choose it for a mastiff puppy or a big Tibetian Mastiff size.
Click and enlarge the image of this mastiff jacket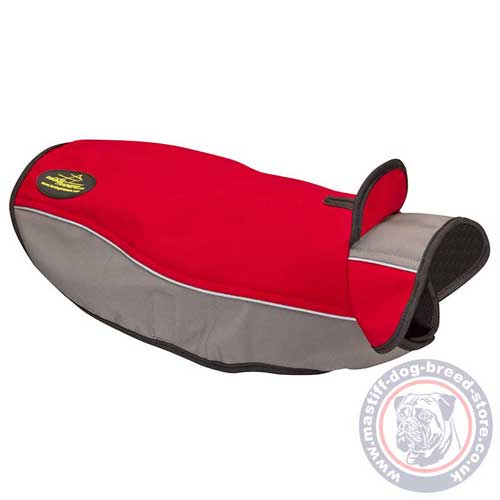 Warm Dog Harness Vest for Mastiff Winter Walking
Important details of the Tibetian Mastiff Jacket:

dense, high quality nylon
light weight
special breathable but waterproof layers
keeps stable dog body temperature
wide, strong and easy velcro fastening
a hole at the neck for a dog lead at the dog collar area
high-vis straps stitched by the sides for light reflecting

Usage of this Warm Tibetian Mastiff Jacket:

Tibetian Mastiff walking in rainy, frosty or cold weather
for mastiff puppies and big Tibetian Mastiff dogs

Available sizes:

from XS to XXXXL
measure your dog, please, to choose a proper size of mastiff coat (according to the size table below)

Available colors: