Tibetian Mastiff Collar for Pretty Dog Fashion, the Best Comfort and Reliable Control in Walking
This new Tibetian Mastiff collar is not only strong and reliable, but also very pretty for your furbabies.
Pink leather dog collar will add a bit of beauty and fashion in every day of your dog. Make your gorgeous Tibetian Mastiff girl look fancy with this pretty dog collar.
Click on the Tibetian Mastiff pictures to see bigger ones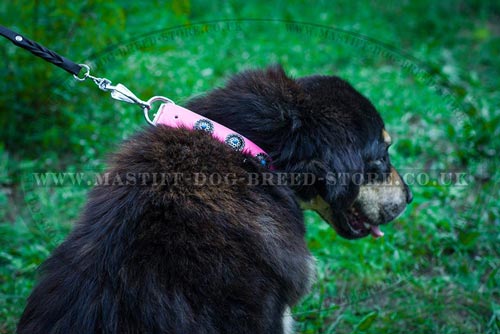 Beautiful and Strong Dog Collar Design with Cast D Ring and Strong Buckle
Pink Tibetian Mastiff collar is made of natural leather of high quality. It is thick and strong. It's bright color will not fade with time. If you keep to the simple rules of leather care, it will look nice and be flexible for many years.
Click on the Tibetian Mastiff pictures to see bigger ones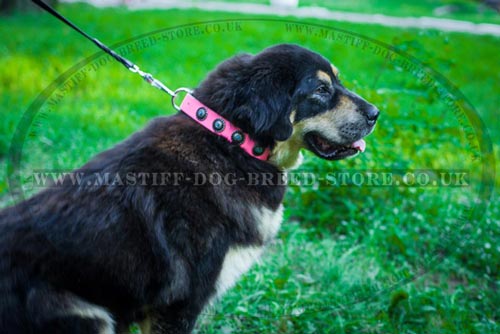 Cute Pink Leather Dog Collar for Gorgeous Look of Your Tibetian Mastiff Girl
Pink leather is decorated with vintage conchos. There is a blue stone in each of the metal circles. Pink and blue perfectly match to make your girl look bright and beautiful.
Click on the Tibetian Mastiff pictures to see bigger ones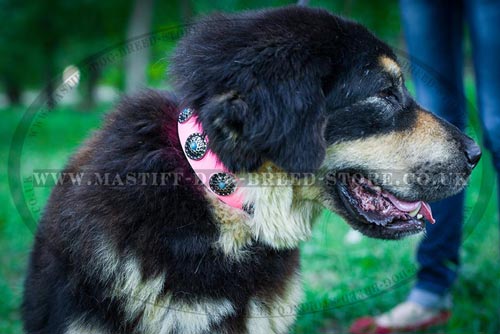 Pretty Dog Collar Design with Blue Stones and Vintage Conchos
Your nice Tibetian Mastiff girl will attract admiring looks of the passers-by with this pink leather dog collar on.
Choose comfort, quality and style. It is a premium quality Tibetian Mastiff collar handmade by professionals.
We propose the best qualiaty and price from the producer directly.
Click on the pictures to see bigger image
Key features of this Tibetian Mastiff Collar:

Thick and strong leather
Hand made
Stylish design with silver-color conchos
Blue stones in each metal circle
Reliably fixed by rivets
Rust-resistant hardware
Cast D-ring for a lead
Comfortable, strong and reliable
Rounded edges
Easy adjustable

Intended use of this Pink Leather Dog Collar:

Everyday elegant dog walking
Basic training
Control of your lady dog

Size:

1 1/2 inch (40 mm) wide
18 to 36 in sizes available

Color:
Measure your Mastiff dog for a new dog collar:

Buckle collar size features:
Specify dog neck size and we will make collar fit it on a central hole.
There will be total of 5 holes and distance between each 2 holes is 1 inch (25 mm).
For example: your dogs neck size is 20 inches (50 cm). Dog collar will fit 20 in (50 cm) on the central hole.
There will be 2 smaller size holes - 18 inch (45 cm) and 19 inch (47.5 cm).
There will be 2 bigger size holes - 21 inch (52.5 cm) and 22 inch (55 cm).
There will also be tip of the collar after last hole about 2 inch long (5 cm).
Those are handcrafted collars and some sizes will differ a little (not in significant way).
More information of this Pretty Dog Collar:
All our mastiff supplies are handmade, safe and non-toxic for a dog. They contain no substances, that may cause skin allergies. All products have the International Quality Certificate and proved and recommended by canine specialists and veterinarians all over the world.
Please, turn your attention:
If you want this Pink Leather Dog Collar to serve a good and long service, keep it away from water and never use heating sources for drying a leather dog collar or other natural leather item.
Use special leather conditioner intended for leather care. Water repellent can help to increase water resistance of leather dog collar.
Enjoy the look of your Tibetian Mastiff with a Pink Leather Dog Collar.